LCD Touchmonitor provides 22 in. viewing angle.
Press Release Summary: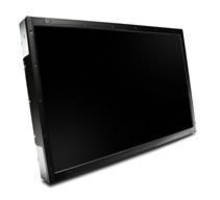 Measuring 500 x 332 x 80 mm, open-frame Model 2240L can be deployed in landscape and portrait orientations and is suited for casino gaming, video-game entertainment, and self-service kiosks. Featuring front-facing, metal-hardened anodized bezel and L-mounting bracket, monitor is available in IntelliTouch surface acoustic wave, surface capacitive, and no-touch versions. Pure-glass and sealed-screen used with IntelliTouch technology helps prevent damage from spills, smoke, and other hazards.
---
Original Press Release:

Tyco Electronics Introduces The Elo TouchSystems 2240L Touchmonitor



Wide-Aspect, High-Resolution LCD Touchmonitor Brings Brilliant Performance to Gaming

HARRISBURG, Pa - November 19, 2008 - With the release of the new Elo TouchSystems 2240L wide-aspect, high resolution LCD touchmonitor, Tyco Electronics' Elo TouchSystems, a global leader in touchscreen technology, introduces the latest addition to its successful portfolio of wide aspect ratio open-frame touchmonitor solutions.

The company will unveil the new touchmonitor at the annual Global Gaming Expo (G2E) in Las Vegas, Nevada, November 18-20, 2008. With a proven track record and industry leading product reliability, the gaming industry has come to rely on Elo TouchSystems touchmonitors to capture gamers' attention - and keep it.

Designed for use in high-traffic casino gaming, video-game entertainment and self-service kiosk environments, the 2240L offers the widest viewing angle of any 22" touchmonitor available today, and delivers clear, bright, and long-lasting performance. Colors remain sharp, vivid and true, and graphics retain their integrity.

"The 2240L truly represents a breakthrough in terms of design and performance in touchscreen technology," says James Witkowski, Elo TouchSystems product manager. "The 2240L offers exceptional visual performance in a wide variety of lighting environments, fully meeting the elevated consumer expectations in the age of high-definition television."

The innovative design of the open-frame 2240L provides a seamless fit for gaming applications, and can be deployed in both landscape and portrait orientations. With a front-facing, metal-hardened anodized bezel and L-mounting brackets and slim dimensional profile (500x332x80 mm), the 2240L offers installation flexibility in a variety of entertainment and retail environments. In addition, the integrated on-screen display control (OSD), as well as a remote OSD, allow for simplified management of the 2240L.

The 2240L is the latest addition to Elo's existing portfolio of open-frame touchmonitors, now available in 20-inch, 22-inch, 26-inch and 32-inch screen sizes. At launch, the 2240L is available with industry-leading touch technologies including IntelliTouch surface acoustic wave, and surface capacitive, as well as a no-touch version. The pure-glass and sealed-screen used with IntelliTouch technology helps prevent damage from spills, smoke and other potential hazards, while Elo's next-generation surface capacitive touchscreen controller offers robust performance and pin-point accuracy. The 2240L featuring acoustic pulse recognition (APR), the innovative technology from Elo TouchSystems that senses touch by recognizing unique patterns of acoustic waves, is scheduled for release in early 2009.

ABOUT TYCO ELECTRONICS

Tyco Electronics Ltd. is a leading global provider of engineered electronic components, network solutions, undersea telecommunication systems and wireless systems, with 2008 sales of $14.8 billion to customers in more than 150 countries. We design, manufacture and market products for customers in industries from automotive, appliance and aerospace and defense to telecommunications, computers and consumer electronics. With nearly 8,000 engineers and worldwide manufacturing, sales and customer service capabilities, Tyco Electronics' commitment is our customers' advantage. More information on Tyco Electronics can be found at www.tycoelectronics.com/.

ABOUT ELO TOUCHSYSTEMS

Tyco Electronics' Elo TouchSystems is the global leading brand in touch technology. The Elo TouchSystems' line encompasses the largest selection of touchscreen technologies, LCD and CRT touchmonitors, carefully designed for the demanding requirements of diverse applications, such as industrial, medical, POS, kiosks, retail, hospitality, transportation, office automation and gaming. Elo founders invented the touchscreen over 35 years ago. Since then, customers have used Elo touchscreens with one common, powerful result advanced computer technology simplified for all users. For more information on Elo products and services, please contact 800-ELO-TOUCH (800-356-8682), or view Elo products website at www.elotouch.com or direct electronic mail inquiries to customerservice@elotouch.com.

Elo TouchSystems, IntelliTouch, TE logo, and Tyco Electronics are trademarks.

Contacts: Product Communications:

James Witkowski

(650)361-4816

james.witkowski@elotouch.com

Marketing Communications:

Gary Sadamori

(650)361-4669

gary.sadamori@tycoelectronics.com

More from Fluid & Gas Flow Equipment