LCD Panel operates over wide temperature range.
Press Release Summary: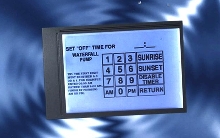 MAXIMISER2 1/2-VGA display module works in temperatures of -20° to 70º C. Fully addressable graphics panel has 480 x 320 dot resolution, provides bright, clear display, and can be used in low-light conditions. It has built-in backlight for operating in darkness. Active display area is 115.2 x 76.8 mm, with overall module size of 144 x 94.9 mm. Connections are via one, 20-pin connector for display panel and one, 2-pin connector for LED drive.
---
Original Press Release:
1/2-VGA LCD Display Panel Operates Over Wide Temperature Range

Densitron broke new ground with its MAXIMISER LCD display module, bringing to the market a versatile, high-performance 1/2-VGA module at a price comparable to existing 1/4-VGA units. Now Densitron does it again with the MAXIMISER2, an LCD module with a top-of-the-line specification that includes operation over a wide temperature range.

MAXIMISER2 is a fully addressable graphics panel of 480 x 320 dot resolution (1/2-VGA). It uses the latest LCD technology to provide a bright, clear display; the LCD is an FSTN type used in transflective mode. Excellent readability is therefore assured in ambient light, and for use in low-light conditions, or in darkness the module has a built-in backlight. Once again this uses the most up-to-date practice, employing white light-emitting diodes that give good efficiency and a long lifetime, specified at 50,000 hours.

One of the limitations of some earlier LCD technologies was their restricted temperature range; not so with the MAXIMISER2, which is specified for operation over -20°C to +70°C. Storage temperature range is -30°C to +80°C.

MAXIMISER2 has an active display area of 115.2 x 76.8mm, and an overall module size of 144 x 94.9mm, excluding mountings. Assisting designers in mounting the module within their equipment's enclosures, the module has an overall thickness of only 10.5mm. Connections are via a standard 20-pin connector for the display panel itself, and a 2-pin connector on a flying lead for the LED drive. Drive voltage for the panel is 23.8V, with a frame rate of 70Hz.

Prices start at $86.00 for 1,000 pieces, and are available from stock to 14 weeks ARO.

More from Construction Equipment and Supplies