LCD Monitors can be mounted from front or rear.
Press Release Summary: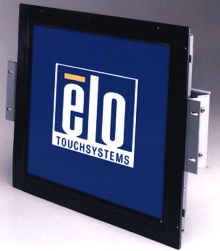 1747L and 1767L 17 in. Entuitive touchmonitors for kiosk, industrial, POS, or gaming applications have removable anodized bezel that converts monitor from front mount to rear mount. Both have 250 NIT panel; DVI-D interface; VESA mounting; wiper blade touch screen to bezel seal; and UL, cUL, FCC, CE, and TUV-GS approvals. Serial and USB touch interfaces are available for AccuTouch resistive, and IntelliTouch and SecureTouch surface-wave touch screens.
---
Original Press Release:
Elo's New 17-Inch LCD Front And Rear Mount Modular Touchmonitors

Elo's new 1747L and 1767L Entuitive 17-inch LCD 3000 Series touchmonitors allow for easier rear mounting and front mounting in kiosk, industrial, POS or gaming applications. The key to Elo's 1767L front mounting touchmonitor is that it is actually one product that converts into two products. If a customer orders the 1767L and removes the front mounting anodized bezel, the touchmonitor easily converts from front mount to rear mount. The same applies to the 1747L/1767L's cousins, the 15-inch 1547L/1567L. Elo believes that this makes the new modular touchmonitors a great choice for integrators because they need only stock one touchmonitor, which can then be converted to either front or rear mount, giving them the flexibility of two options. This reduces the cost of inventory and storage space, extends the life of the touchmonitor and, if the rear mount option is chosen, the front mounting bezel can be retained and used on another monitor.

Both the 1747L (rear mounting) and 1767L (front mounting) are available with a serial and USB touch interface for AccuTouch resistive, and IntelliTouch and SecureTouch surface-wave touch technologies.

In addition to providing a quality product at an affordable price, the new 1747L and 1767L include a 250 NIT panel, DVI-D interface, VESA mounting, exclusive wiper blade touch screen to bezel seal as well as UL, cUL, FCC, CE and TUV-GS approvals for sale in North America and Europe.

Both models also include standard Elo touchmonitor features such as digital OSD, good cable management and extreme stability when touched. Elo's 1747L and 1767L models are also available in non-touch versions.

For more information on Elo's products and services, please contact Elo TouchSystems at 800-ELO-TOUCH (800-356-8682), visit Elo's Web site at www.elotouch.com, or direct electronic mail inquiries to eloinfo@elotouch.com.

Entuitive, AccuTouch, IntelliTouch and SecureTouch are trademarks of Elo TouchSystems, Inc. All other products and company names referred to herein may be trademarks or registered trademarks of their respective companies or mark holders.

About Elo TouchSystems

Elo TouchSystems, Inc., global leader in touch technology, is a unit of Tyco Electronics. Elo develops, manufactures and markets a complete line of touch products that simplify the interface between people and computers in both public-access and employee-activated applications. Founded in 1971, the company is headquartered in Fremont, California, with manufacturing sites in the U.S., Belgium, Taiwan, and Japan. (Elo operates in Japan under the name of Touch Panel Systems). Elo's main regional offices are in Kessel-Lo, Belgium and Yokohama, Japan, with additional sales and technical support offices worldwide. For more information on Elo TouchSystems' products and services, call 1-800-ELO-TOUCH in the U.S. or visit our Web site at www.elotouch.com.

About Tyco Electronics

Tyco Electronics is one of the major business units of Tyco International Ltd. Headquartered in Harrisburg, Pennsylvania, USA, Tyco Electronics is the world's largest passive electronic components manufacturer; a world leader in cutting-edge wireless, active fiber optic and complete power systems technologies; and is also rapidly developing extensive networking and building technology installation services. The company has facilities located in 51 countries serving customers in the aerospace, automotive, computer, communications, consumer electronics, industrial and power industries. Tyco Electronics provides advanced technology products from over forty well- known and respected brands, including Agastat, Alcoswitch, AMP, AMP NETCONNECT, Buchanan, CII, CoEv, Critchley, Elcon, Elo TouchSystems, M/A-COM, Madison Cable, OEG, OneSource Building Technologies, Potter & Brumfield, Raychem, Schrack, Simel and TDI Batteries.
More from Thermal & Heating Equipment