LCD Controller includes text overlay feature.
Press Release Summary: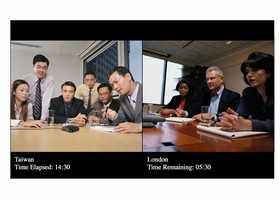 Model SVH-1920 Advanced HD LCD controller offers text overlay feature that merges video and informational text on single display and enables controller to receive text strings of up to 40 characters. Text sequences are delivered via controller serial port and can be overlaid on up to 4 separate lines at bottom of screen. Text strings can be sent to individual lines, along with horizontal positioning commands, line or screen erasure, and selectable background transparency.
---
Original Press Release:

New Text Overlay from Digital View



Morgan Hill, CA, November 2007 - Digital View has added a text overlay feature to its
SVH-1920 Advanced High Definition LCD controller that merges video and informational text on a single display.

Text sequences are delivered via the controller serial port and can be overlaid on up to four separate lines at the bottom of the screen. Utilizing Digital View's proprietary Serial Port Protocol (SPP), this feature enables the SVH-1920 controller to receive text strings of up to
40 characters and display them in fixed locations at the bottom of the LCD screen. Text strings can be sent to individual lines, along with horizontal positioning commands, line or screen erasure and selectable background transparency.

The text overlay feature can be used to significantly enhance a variety of applications. For teleconferencing, it can be used to show real-time information such as remaining time and location updates. In video production, it can display active camera numbers or whatever data is desired. Medical instrumentation displays can use text overlay to display a wide range of critical real-time patient information. Security displays can use it to show active camera area and other
parameters and, for military applications, text overlay can provide live, continually updated targeting information for weapons management.

The text overlay capability can be customized to provide specific formats or features for OEM customers. Digital View also offers a downloadable Windows-based utility program - available at www.digitalview.com/controllers/support.php - enabling developers to create demonstrations and simulations of the text overlay feature.

The text overlay feature is supported on Digital View SVH-1920 controllers equipped with firmware revision V0.31or later.

SVH-1920 controllers with text overlay are shipping now. Pricing is $225.00 in 1,000-piece quantities. They are also available from Digital View's distribution network. Delivery is off-the-shelf.

For more information, contact Neil Wood at Digital View, Inc., USA: (408) 782 7773; nwood@digitalview.com. In the United Kingdom, contact Richard Cobbold:
+44 (0) 20-7631 215; rcobbold@digitalview.com. In Hong Kong, contact James Henry:
+852-3861 3615; jhenry@digitalview.com.

About Digital View
Established in 1995, Digital View Group (www.digitalview.com) is one of the world's foremost suppliers of advanced interface solutions for the LCD display market and a world leader in the supply of retail video promotion and digital signage solutions. The company also develops display electronics products and services used in demanding specialized OEM applications. Digital View has sales offices worldwide in Morgan Hill, CA, USA, London, England, and Hong Kong.

Reader Service Inquiries: Please e-mail to Neil Wood at sales@digitalview.com or mail to Digital View, Inc., 18440 Technology Drive, Building 130, Morgan Hill, CA 95037,
USA. Attn: Neil Wood

More from Materials