LC/MS System features metal capillary electrospray probe.
Press Release Summary: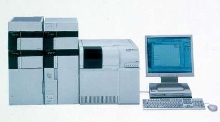 Liquid Chromatograph/Mass Spectrometer, Model LCMS-2010EV incorporates ion source design that uses additional drying gas at inlet of capillary for greater control of solvent adduct formation. Ion optical system consists of Q-array design, Octopole lens, and Hyperbolic Quadrupole rod system. Supplied as standard, ESI operates with flow rates up to 2 mL/min without flow splitting, and scanning electronics support 6,000 amu/sec acquisition rates.
---
Original Press Release:

High Performance LC/MS Includes Enhanced Features for Maximum Sensitivity


Shimadzu Scientific Instruments has introduced the LCMS-2010EV Liquid Chromatograph/Mass Spectrometer. The cost-effective solution for an extensive range of applications in the pharmaceutical, educational and environmental fields, the easy-to-operate LCMS-2010EV incorporates an enhanced ion source design that uses an additional drying gas at the inlet of the capillary, resulting in higher sensitivity and greater control of solvent adduct formation. The LCMS-2010EV includes additional sensitivity-enhancing features such as a new metal capillary electrospray probe design, revised ion optics for enhanced ion transmission, and expanded microbore compatibility for ESI. Supplied as standard, the ESI can operate with flow rates as high as 2 mL/minute without requiring flow splitting. Fast scanning electronics support 6000 amu/second acquisition rates for fast chromatography applications.

Shimadzu's LCMS-2010EV also features the innovative ion optical system that consists of a unique Q-array design, high efficiency Octopole lens, and high-performance Hyperbolic Quadrupole rod system to deliver new limits of detection for LC. To maximize productivity, the software incorporates a multi-sequence mode of operation, enabling simultaneous data collection and up to 64 different combinations of experiments to be monitored within each analysis. Advanced functionality and LCMSsolution software simplify operation and enable reliable and maximum throughput. The optional application-driven PsiPort(TM) mass directed auto-purification software, designed to meet the needs of medicinal and synthetic chemists, accelerates compound isolation and auto-purification by preparative LC/MS.

For more information, call 800-477-1227, Fax: 410-381-1222, visit our web site at www.ssi.shimadzu.com. or write Shimadzu Scientific Instruments, Inc., 7102 Riverwood Drive, Columbia, MD 21046-2502.

Related