Laundry Cart Features Rugged, Lockable Cover to Protect Linens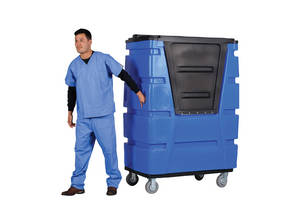 MODRoto 72S with Rotomolded Lid, Door Guards Against Theft, Weather
Madison, IN, USA: The Poly-Trux(R) 72S bulk laundry cart from laundry product manufacturer MODRoto, Madison, IN (MODRoto.com) features a rugged, lockable lid and door (optional) to protect linens from theft and from exposure to inclement weather while keeping them secure and in place during storage and transportation. Rotationally molded from 100% high-density polyethylene (HDPE), the durable lid and door offer superior resistance to deformation on impacts versus weaker vacuum formed and injection molded ABS plastic covers to withstand the rigors of frequent loading, unloading and transportation. The waterproof, plastic lid and door are designed and carefully manufactured to fit neatly within the laundry cart body and open without hitting the ground while creating a tight seal against water infiltration to prevent the laundry inside from absorbing water. "The lid and door fit flush into the sides of the cutout instead of lying over the outside," says Randy Bernstein, Manager of Laundry Services for Maricopa Integrated Health System. "When I saw this and all of these other little details in the functionality, I knew this was the right cart to purchase."
The 72S with the optional, rotomolded lid and door sets a rugged, rotationally molded plastic cart atop a durable, powder-coated, steel base and industrial-strength casters to handle payloads to 1,000 lbs. on the standard 72P footprint. Inside, the 72S is metal-free to protect linens from snags, support worker safety and ease cart washing.
For more information, contact
MODRoto
1745 Cragmont St., Madison, IN 47250 USA;
1-800-829-4535;
FAX 812.273.1878;
see www.MODRoto.com.
Contact:
Paul Entin
908.479.4231;
More from Architectural & Civil Engineering Products