Latest Step Bits Come with Improved Split-Point Tip
Press Release Summary: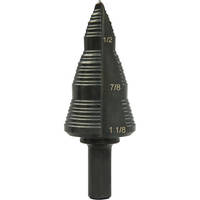 Available in 10 imperial-sized ranging from 1/8 in. to 1-3/8 in., and three metric-sized ranging from 4mm. to 32.5mm.
Feature split-step design to optimize chip load for faster and smooth cutting experience
Progressive cutting edges provide balanced aggression to maximize torque efficiency
---
Original Press Release:
Emerson's Greenlee® Introduces New GSB Series Step Bits
New Step Bits are up to twice as fast with extended life
ROCKFORD, Ill. (December 14, 2020) – Emerson's (NYSE: EMR) Greenlee is innovating the step bit for an advanced holemaking solution. The new Greenlee GSB Series Step Bits are manufactured in the USA and feature an improved split-point tip for even faster penetration and a patented split-step design to optimize chip load for a faster and smooth cutting experience while achieving more holes per charge.
"We've taken our step bit design to a whole new level, focusing on the best possible performance with cordless drills," said Rob Bentley, senior product manager, Greenlee for Emerson. "Greenlee is proud to announce a patented design that provides the fastest, smoothest cut, the longest life and the most holes per charge."
Progressive cutting edges on the bits provide balanced aggression to maximize torque efficiency and minimize stalling when using a cordless drill. An improved double flute design provides enhanced chip evacuation, while also increasing cutting speed and bit life. Laser markings on the bits allow for easy part and size identification. The GSB Series Step Bits for mild steel will be offered in two sets, available in 10 Imperial-sized step bits ranging from 1/8-inch to 1-3/8-inch, and three Metric-sized step bits ranging from 4mm to 32.5mm.
Professionals interested in the GSB Step Bits can visit Greenlee.com/StepBits to learn more information. To request a hands-on tool demonstration from a Greenlee Pro Tool Specialist, visit Greenlee.com/requestdemonstration. For more information on Greenlee, visit Greenlee.com.
Emerson's Professional Tools businesses include Greenlee as well as the RIDGID® and Klauke® brands and provides the industry's broadest portfolio of advanced, reliable tools and technologies for the mechanical, electrical and plumbing trades globally. Visit emerson.com/professionaltools for more information.
About Emerson
Emerson (NYSE: EMR), headquartered in St. Louis, Missouri (USA), is a global technology and engineering company providing innovative solutions for customers in industrial, commercial, and residential markets. Our Automation Solutions business helps process, hybrid and discrete manufacturers maximize production, protect personnel and the environment while optimizing their energy and operating costs. Our Commercial and Residential Solutions business helps ensure human comfort and health, protect food quality and safety, advance energy efficiency and create sustainable infrastructure. For more information visit Emerson.com.
For more information, contact:
Agency Contact: Liz Dorland ▪ 402.437.6066 ▪ lizd@swansonrussell.com
Corporate Contact: Michael Farris ▪ 815.312.6839 ▪ Michael.Farris@emerson.com