Latest Session Border Controller is Capable of Handling Fluctuating Bulk Traffic
Press Release Summary: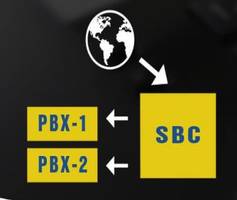 Ecosmob's Session Border Controller Software is designed for telecom service providers. The SBC solution optimizes the use of resources by decomposing media and signaling planes. Upgraded with dedicated signaling and media firewalls to prevent cyber threats, the solution is embedded with reporting, analytics and billing features that helps service providers in understanding and analyzing customer network issues.
---
Original Press Release:
Ecosmob Announce Session Border Controller for Telecom Service Providers
VoIP services evolve and so does the need for enhanced security as well as media transcoding across international networks. Ecosmob recently launched session border controller incorporates features for enhanced performance requirements of telecom service providers.
Ecosmob, global leaders in VoIP technologies, announced the launch of session border controller specifically developed for telecom service providers.
Ennumerating the features of the improved SBC solution, a representative said that the session border controller offered by Ecosmob is a hosted, cloud-based software solution with its own set of advantages. One such advantage is that media and signaling planes are decomposed resulting in optimized use of resources as well as the ability to handle fluctuating bulk traffic. Another is the incorporation of latest media codecs and facility to handle encryption and real time transcoding of media packets in large numbers due to single root in-out virtualization.
Ecosmob's latest SBC development has led to evolution of an improved SBC package that is fully compatible with cloud based management and orchestration framework for smoother integration into existing networks. At the same time the IP multimedia subsystem has been realigned for enhanced performance. WebRTC forms part of the offering and enhances IMS services that should surely be welcome for telecom service providers who can offer multi-device services. Security features have been improved in the latest Ecosmob session border controller with dedicated signal and media firewalls to handle evolving cyber threats that are inherent in IP networks.
The other side of the coin is white labeling as regards technical features as well as the reporting, analytics and billing features. Ecosmob SBC development team has introduced modifications that make management, reporting and billing an easy process through a user friendly dashboard. The real time network analytics module will be particularly helpful to service providers in their service operations and in understanding as well as analyzing customer network issues.
Ecosmob hosted SBC is far better for telecom services from various perspectives. It is based on open source technology and carriers get the latest technologies at a low price while being fully assured of upgrades on an ongoing basis. Ecosmob offers speedy customized SBC solutions with full guarantee of backup support at all times.
He went on to state that the company has also evolved its class 4 and class 5 softswitches for the telecom industry. The SBC package enhances performance of these softswitches, improves call quality, reduces costs and also provides best-in-class security features along with billing making it a must-have solution.
Telecom carriers and VoIP service providers are welcome to contact Ecosmob to know more about how the SBC solution will power them to greater success in their markets. They may be contacted by phone on 91 79 40054019, 1-303-997-3139, email sales@ecosmob.com or via website https://www.ecosmob.com.
More from Fasteners & Hardware