Latest Print-from-Anywhere, Complete Labeling Solution Earns Brady Two Industry Awards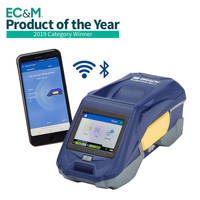 BradyPrinter M611 Mobile Label Printer with Brady Workstation Mobile or Desktop Software recognized for its innovative printing capabilities
Milwaukee, Wis. (October 15, 2019) — Brady (NYSE:BRC), a global leader in industrial and safety printing systems and solutions, announced two award recognitions for its BradyPrinter M611 Mobile Label Printer with the Brady Workstation Express Labels Mobile App.

The new mobile printer and label app, designed specifically to make on-the-job label printing easier and faster, won both a 2019 Electrical Construction & Maintenance (EC&M) Product of the Year Award in the "Labeler and Printer" category and a 2019 Cabling Installation & Maintenance (CI&M) Innovators Award, with a silver rating in the "Cabling Media" category.
"Earning not one, but two awards for our BradyPrinter M611 with Brady Workstation Software highlights the value of combining mobile device technology with dependable label printing to bridge the gap between the office and the field," said Nicole Nelson, global product manager for portable systems at Brady. "This complete solution offers a variety of time- and labor-saving advantages. To keep printing all day, the BradyPrinter M611 features a long-lasting battery and rugged design. The Brady Workstation Express Labels Mobile App brings additional innovation to the table – allowing users to easily access their label data, make changes and print via Bluetooth or Wi-Fi wherever they are, without a trip back to the office."
To receive these awards, the BradyPrinter M611 was judged against other innovative products in each award category. The EC&M Product of the Year Award recognizes inventiveness in product design, and improvements in safety and efficiency. The judging and voting process determined the most ground-breaking products that allow electrical designers, installers and maintenance workers to perform their jobs more effectively. The CI&M Innovators Award recognizes the best in the industry, with a third-party judging panel of cabling and communications system specifiers, designers, integrators and managers.
Setting itself apart in the industry, the BradyPrinter M611 features smart-cell technology that communicates with the printer, software, and label and ribbon materials for faster, easier label setup and creation. This is in addition to its long-lasting lithium ion battery and rugged, compact design for use in even the harshest or cramped environments.
The Brady Workstation Express Labels Mobile App is intuitively designed with touchscreen technology, a native keyboard for natural typing, auto-save capabilities and easy-to-use editing tools. It also features pinch-to-zoom capabilities and in-depth, guided label creation for a variety of identification applications.
For more information on the BradyPrinter M611, visit BradyID.com/M611.
For More Information
For the complete product offering from Brady, visit BradyID.com.
About Brady Corporation
Brady Corporation is an international manufacturer and marketer of complete solutions that identify and protect people, products and places. Brady's products help customers increase safety, security, productivity and performance and include high-performance labels, signs, safety devices, printing systems and software. Founded in 1914, the Company has a diverse customer base in electronics, telecommunications, manufacturing, electrical, construction, medical, aerospace and a variety of other industries. Brady is headquartered in Milwaukee, Wisconsin and as of July 31, 2019, employed approximately 6,100 people in its worldwide businesses. Brady's fiscal 2019 sales were approximately $1.16 billion. Brady stock trades on the New York Stock Exchange under the symbol BRC. More information is available on the Internet at www.bradycorp.com.
Media Contact:
Jackie Hahn
(414) 438-7024
Jackie_Hahn@bradycorp.com

Product Contact:
Nicole Nelson
(414) 228-3343
More from Test & Measurement