Pyrometers and Infrared Thermometers
Latest PosiTector IRT Infrared Thermometer Features a Button Activated Laser Pointer
Press Release Summary: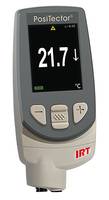 The PosiTector® IRT Infrared Thermometer with Smart Trend indicators identifies rising, falling or stable readings and provides the user with 7 preset material options. The unit's HiLo alarm alerts the user when the specified limits are exceeded. It is resistant to solvent, acid, oil, water and dust and simultaneously updates and displays the surface temperatures. The PosiTector enables user to record the reading manually using pause function.
---
Original Press Release:
Introducing the New PosiTector® IRT Infrared Thermometer
A Non-Contact Surface Temperature Thermometer
For Immediate Release: The New PosiTector® Infrared Thermometer has a button-activated laser pointer for accurate targeting. Two powerful modes are available that quickly analyze large areas. The Scanning Statistics Mode records one reading per second. The HiLo Alarm compares results to user-specified limits and alerts the user when readings exceed those limits. The Smart Trend indicators identify rising, falling or stable readings. Choose from 7 preset material options, set a custom emissivity value, or adjust to a known temperature. 
Features
Surface temperature is constantly updated and displayed simultaneously
Button activated laser pointer for simple, accurate targeting
Solvent, acid, oil, water and dust resistant - weatherproof
Non-contact sensor won't get caught or worn
Certificate of Calibration showing traceability to NIST included (Long Form)
Fast response precision sensor provides accurate, repeatable readings
PosiTector body accepts all PosiTector IRT, DPM, 6000, 200, RTR, SPG, SST, SHD and UTG probes easily converting from an infrared thermometer, to a dew point meter, coating thickness gage, surface profile gage, soluble salt tester, Shore hardness durometer or ultrasonic wall thickness gage
Screen Capture - save screen images for record keeping and review
Pause function allows readings to be manually recorded
Item Nos. TH-677010, TH-677020
Contact:
Sherri B. Thompson, Advt/Mktg Manager
Paul N. Gardner Company, Inc.
316 NE 1st Street, Pompano Beach, FL 33060
(954) 946-9454 or visit Gardco.com