Data and Database Management Software
Latest MiniTool Power Data Recovery V8.0 Software Features Four Recovery Modules
Press Release Summary: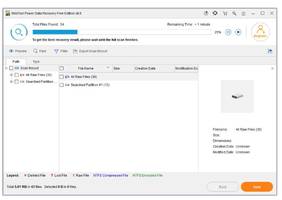 MiniTool Power Data Recovery V8.0 Software is upgraded with features such as new interface, recovery modules, data scan function, fixed bugs and supported languages. Recovery modules include PC, removable disk drive, hard disk drive and CD/DVD drive. Scan function allows the user to pause or stop scanning files when they find needed files during the scanning process. CD/DVD Drive module is used for recovering deleted files from CD/DVD discs such as CD-ROM, CD-R, CD-RW, DVD-ROM, DVD-R and DVD-RW.
---
Original Press Release:
MiniTool Solution Ltd. Updates Power Data Recovery to 8.0
VANCOUVER, May 17, 2018 /PRNewswire/ -- MiniTool Solution Ltd., an innovative computer software provider, released its latest MiniTool Power Data Recovery V8.0. This updated version gives users an efficient operating experience for file recovery.
What's New in MiniTool Power Data Recovery V8.0?
The latest data recovery software brings many changes, including a brand new interface, recovery module, data scan function, supported languages and some fixed bugs. With the help of it, users can recover deleted files in Windows easily.
Brand New Interface - In V8.0, the user interface is different from its previous version, just like a new product. It is quite easy-to-use, enabling users to easily operate the file recovery without needing professional knowledge. In the design aspect, the changes include color, buttons, partition or disk layout, function modules and some small options.
Four Recovery Modules - MiniTool Power Data Recovery Version 8.0 has four recovery modules, including This PC, Removable Disk Drive, Hard Disk Drive and CD/DVD Drive.
This PC - This feature is specialized in recovering files from formatted partition, RAW partition and damaged partition. When launching MiniTool Power Data Recovery V8.0, this recovery module is selected by default. 
Users can see all partitions on their computers. In addition, if there is a lost partition or an unallocated space, this latest version can list them by category. Users need to choose one for scanning and recovering deleted files.
Removable Disk Drive - If users lose or delete files stored on their SD card, USB flash drive, memory stick, digital camera or other removable devices, this feature is recommended. Users need to manually connect their device to a computer so as to use this function. Then, they can find this new version displays the partition as well as the removable disk. They need to choose either the partition or removable disk first, then scan it and recover lost files.
Hard Disk Drive - Windows partition may be deleted due to Windows update, system corruption, mistaken operation, etc. At the same time, all the partition data will be lost. In this case, the hard disk drive's files are available for file recovery from the lost partition. 
In the main interface, MiniTool Power Data Recovery V8.0 shows all detected hard disks, unallocated space and lost partitions. Users can choose one type to scan so as to get lost data back.
CD/DVD Drive - This is designed to recover deleted files from CD/DVD discs, and almost all disc types including CD-ROM, CD-R, CD-RW, DVD-ROM, DVD-R and DVD-RW are supported.
Scan - In V8.0, the found files will be listed during the scanning process and users are able to pause or stop the scan if they have found their needed files. Besides, it is also allowed to save files while scanning to enhance data recovery efficiency.
Improvements to Old Functions
Recovery Result - Users are still able to load the previous scan results in the latest version of this software. Similarly, it also supports loading the recovery result (.rss file) that has been exported to a computer. 
These two options can be viewed in the main interface of each recovery module except CD/DVD Drive feature. Moreover, MiniTool Power Data Recovery V8.0 displays the partition or disk size and the creation date of the previous scan.
File List - This newest version optimizes the way to display the files found in the scan result interface. For example, it can display the original file name in Recycle Bin folder. Meanwhile, it is able to recover files inside Recycle Bin to the original path in the virtual file system. In addition, this software optimizes the catalog of the found files, enabling users to search for files easily.
About MiniTool Solution Ltd.
MiniTool®, a professional Canadian software company, devotes itself to providing the best IT solutions for home and business users worldwide in data recovery, partition management, and backup schemes. Today, millions are using MiniTool products and all speak highly of our software and service. For more information, please visit https://www.minitool.com.
More from Software