Latest LP-100R Label Printer from Weiler Delivers a Printing Speed of 4,700 in. Per Minute
Press Release Summary: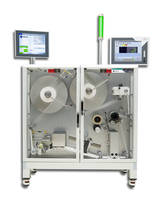 The LP-100R Label Printer is designed for printing linear barcodes, serialized 2D data matrix barcodes, human readable codes and high-impact visual graphics. The unit is capable of handling label roll size up to 457 mm in diameter with 76 mm diameter core. It is offered with balcony-style construction and is suitable for use in pharmaceuticals, nutraceuticals, diagnostics, medical devices, biotech applications. The printer is equipped with Ethernet ports to share data with plant-wide networks and enables remote diagnostics.
---
Original Press Release:
Weiler Labeling Systems Introduces LP-100R Label Printer
High-speed on-demand printing maximizes production versatility and label quality
MOORESTOWN, NJ, SEPTEMBER 6, 2018 – Weiler Labeling Systems (WLS), a ProMach product brand, introduces their state-of-the-art LP-100R on-demand label printer at Healthcare Packaging Expo Booth #W-703. Delivering digital flexibility, the stand-alone high-speed LP-100R eliminates the need to inventory distinct labels for each product while its high resolution and excellent print wear resistance on a wide variety of substrates helps to maximize label quality and permanence.
"When we took our prototype LP-100 to Pack Expo Las Vegas last year, prospective customers responded extremely favorably. We then launched an in-depth market study to identify the exact capabilities that were wanted. The LP-100R we're now introducing is the culmination of that activity," said Ted Geiselman, Business Development for ProMach's Digital Printing Solutions.
Featuring a UV-curing, drop-on-demand (DOD) printer, the LP-100R can print linear barcodes, serialized 2D data matrix barcodes and human readable codes as well as high-impact visual graphics in full color or black-and-white at speeds up to 4,700 inches per minute. Applications include printing variable data on pre-printed labels and on-demand printing the entire label from 'bright stock,' as needed. Achieving superior print quality and print wear resistance on most substrates without the need for a protective top coat, the LP-100R is capable of producing the highest graded codes.
The CE-marked and UL-certified LP-100R is ideal for manufacturers and contract packagers of over-the-counter (OTC) and regulated pharmaceuticals, nutraceuticals, diagnostics, medical devices, biotech and other products around the world.
When combined with an appropriate vision inspection system and WLS' optional 'reconciler,' the LP-100R will automatically remove any out-of-tolerance labels from the label roll. WLS can equip the LP-100R with no vision system or virtually any standard or customer-specified vision system for inspecting variable data. For whole-label printing applications, a specialized new whole-label vision inspection system was developed.
Making its global debut on WLS' LP-100R is Antares Vision's new Total Layout Control (TLC) vision inspection system for narrow webs, which is comprised of a line-scan camera, computer, HMI and software. Designed specifically for the LP-100R, the narrow web TLC is capable of whole-label inspection, including image matching, code reading and color verification. Emidio Zorzella, the CEO at Antares Vision, commented, "We are thrilled to collaborate with WLS on this exciting new product development effort. Our TLC is a perfect fit for this application."
The LP-100R can handle a label roll size up to 18 inches (457 mm) in diameter with a 3-inch (76-mm) diameter core. Featuring balcony-style construction and an integrated electrical enclosure, this compact label printer is designed to meet the requirements of pharmaceutical and medical device manufacturers.
Print changes are quickly made via recipe downloads on the color touchscreen HMI. Label styles can be changed in less than five minutes with no tools required and no change parts. Low level, end-of-web and broken web detection can be programmed to flash a light and/or send an alarm to operators. The HMI is password protected with multiple levels of access to help secure the operation. Equipped with Ethernet ports, the LP-100R can be connected to plant-wide networks to share data for reporting purposes and enable remote diagnostics.
Like the stand-alone LP-100R, the new LP-100L features the same printing, vision and reconciliation capabilities. Unlike the LP-100R, which rewinds the printed labels onto a roll for off-line printing, the LP-100L feeds printed labels directly to virtually any labeling machine.
WLS supports their LP-100 series of label printers with an industry-leading warranty and world-class technical service. WLS provides inks for their LP-100 printers and supports customers in identifying the appropriate substrate for their needs.
About WLS
Weiler Labeling Systems is an industry-leading designer and manufacturer of high-speed rotary labeling machines and serialization and coding solutions for the pharmaceutical and medical packaging markets as well as the food, beverage, personal care, and consumer markets. With nearly three decades of experience in providing labeling, coding, inspection, and precision-manufactured systems, WLS is at the forefront of delivering customized solutions backed by a culture of unwavering customer care. WLS is a product brand of ProMach, a global leader in packaging line solutions. As part of the ProMach Pharma business line, WLS helps our packaging customers protect and grow the reputation and trust of their consumers. ProMach is performance, and the proof is in every package. Learn more about WLS at www.WeilerLS.com.
About ProMach 
ProMach is a family of best-in-class packaging solution brands serving manufacturers of all sizes and geographies in the food, beverage, pharmaceutical, personal care, and household and industrial goods industries. ProMach brands operate across the entire packaging spectrum: filling and capping, flexibles, pharma, product handling, labeling and coding, and end of line. ProMach also provides Performance Services including integrated solutions, design/build, engineering services, and productivity software to optimize packaging line design and deliver maximum uptime.
ProMach designs, manufactures, integrates, and supports the most sophisticated and advanced packaging solutions in the global marketplace. Its diverse customer base, from Fortune 500 companies to smaller, privately-held businesses worldwide, depends on reliable, flexible, technologically advanced equipment and integrated solutions. ProMach is headquartered near Cincinnati, Ohio, with manufacturing facilities and offices throughout North America, Europe, South America, and Asia. For more information about ProMach, visit www.ProMachBuilt.com and for more information on ProMach Careers, visit www.ProMachCareers.com.
Media Contact:
Marla Labreche-Stallmann | Marketing Manager
ProMach Pharma Business Line
Marla.Stallmann@ProMachBuilt.com
+1 603 448 3941
Related