Latest Jump Starting Power Packs Feature AutoBoost Technology
Press Release Summary: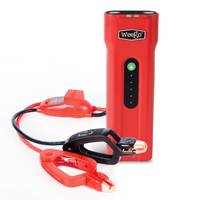 The Weego 44 and Weego 66 Jump Starting Power Packs offer 660 and 440 cranking amps respectively. The AutoBoost technology automatically sends maximum power to dead batteries without using an override button. The units are used by tow operators on land and sea for doing multiple jumps in a day.
---
Original Press Release:
Jump Starting Power Packs Upgraded with Increased Power and More Features
Weego Produces Two New-and-Improved Models to Wow Outdoor Enthusiasts and Pros
WESTAMPTON, N.J. (September 25, 2018) – Weego announces the launch of its new and improved, innovative Jump Starting Power Packs, Weego 44 and Weego 66. These compact, rugged power packs feature increased power and additional features to ensure that users are never left without the ease of use and power they need to keep moving. 
 
Spec'd out with 10 percent more true cranking amps of power, Weego 66 now offers an incredible 660 cranking amps (2500 peak amps) while Weego 44 has increased to 440 cranking amps (2100 peak amps). Tremendous power for such a compact size, Weego Jump Starting Power Packs are built to satisfy any of the jump starting needs of outdoor enthusiasts and professionals alike, including tow operators on land and sea doing multiple jumps a day. Users get the safest, most powerful, reliable and compact portable jump starters  on the market. 
 
The new and improved Weego 44 is also outfitted with Weego's AutoBoost™ technology. Built into Weego 66, the technology enhances the jump starting experience for extra-challenging, low-voltage vehicle batteries. With AutoBoost, maximum power is automatically sent to dead batteries (batteries down to 1/2 volt) without an override button which can compromise safety. This new feature eliminates all guesswork but is still incredibly safe for the user. 
 
"We listened and responded to what our customers want," said Gerry Toscani, CEO, Weego. "The upgraded capabilities of Weego 44 and 66 provide increased power and ease of use at an unmatched value. The fact that our Jump Starting Power Packs can jump at such a low voltage without compromising safety for the user, their Weego or their vehicle is a testament to our continuous improvement initiatives. Weego's mission is to always give customers safe, reliable, easy-to-use products that last. This is what sets us apart from the rest." 

Also new to both products are space-saving, vertical-format packaging. Their on-shelf presence is more arresting for the brick-and-mortar shopper because of the bright graphics with clear callouts to the increased cranking amps, updated Jump Starting Power Pack name and more expansive gas and diesel engine size compatibilities. Each sku is identified with new model numbers: 44.1 and 66.1.    

The upgraded Weego 44 will be available this October and the upgraded Weego 66 will debut in December. 
 
For more information on the entire line of Weego High Performance Jump Starting Power Packs, visit www.myweego.com.
About Weego
Weego is a brand of portable power products including compact, lightweight lithium-ion jump starters for cars, trucks, ATVs, motorcycles, boats, light-duty equipment, and more, complementary accessories, as well as rechargeable battery packs that charge phones, tablets, speakers, and more. Founded in 2014 by Paris Corporation, Weego has already received awards in product innovation and branding excellence in consumer electronics, auto, outdoor, marine, powersports, and office supply channels. For more than 50 years, Paris Corporation has built a reputation on quality products and excellent service and support, serving more than 30 years in the food, drug, mass, consumer electronics and hardware channels. To learn more about Paris Corporation, please visit www.pariscorp.com or contact agolden@rushtongregory.com.
 
More from Fluid & Gas Flow Equipment