Latest HPN Planetary Servo Gearheads Come in Quick Connect Single Bolt Clamping Design
Press Release Summary: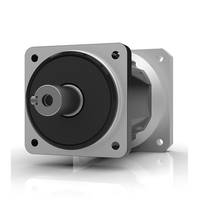 HPN Planetary Servo Gearheads are available in frame sizes of 11, 14, 20, 32, and 40 with two-stage ratios of 15:1, 20:1, 25:1, 35:1, 40:1, 45:1 and 50:1. Units deliver peak torque ranging from 9 N∙m to 752 N∙m and a backlash of <5 arc-min (single stage) and <7 arc-min (Two stage). The gearheads can be coupled to any servo motors using Quick Connect® mounting system. Units are suitable for motion control and positioning applications.
---
Original Press Release:
Harmonic Drive LLC Adds New Two-Stage Ratios to Planetary Servo Gearheads
Peabody, MA, April 27, 2018 –Harmonic Drive LLC, a leader in high precision motion control adds new two-stage ratios to its HPN Harmonic Planetary® gearhead line. HPN planetary gears offer affordable pricing with short lead times.
New two stage ratios include 15:1, 20:1, 25:1, 35:1, 40:1, 45:1 and 50:1. With the addition of these ratios, the HPN line of planetary gearheads offer the increased design flexibility our customers require.
HPN Planetary gearheads feature a robust design utilizing helical gears for quiet performance and long life. These gearheads are available with short lead times and are designed to couple to any servo motor with our Quick Connect® mounting system. HPN Harmonic Planetary® gears are available in 5 frame sizes: 11, 14, 20, 32, and 40, with reduction ratios ranging from 3:1 to 50:1
HPN Features:
Peak Torque 9 N∙m to 752 N∙m
Robust design
High precision
Backlash <5 arc-min (One stage), <7 arc-min (Two stage)
Quick Connect® single bolt clamping design for easy mounting
• Reduction ratio 3:1 – 10:1 (One stage), 15:1-50:1 (Two stage)
Helical gears for quiet performance
Quick delivery
This value series of planetary gears carry the reputation for quality and reliability for which Harmonic Drive® products are known throughout the world. HPN gearheads are suitable for use in a wide range of applications for precision motion control and positioning.
About Harmonic Drive LLC
Harmonic Drive, LLC engineers and manufactures precision servo actuators, gearheads and gear component sets. We work closely with both Fortune 500 and companies of all sizes to understand their application requirements and provide a standard or custom-engineered solution to enable the success of their design project. The majority of the products sold by Harmonic Drive, LLC are proudly made at our manufacturing facility in Peabody, Massachusetts. Harmonic Drive Group Companies in, Japan (Harmonic Drive Systems, Inc.) and Germany (Harmonic Drive AG) provide additional products. We have shared core values, product designs and quality standards. State of the art manufacturing facilities in the US, Japan and Germany enables us to locally serve the needs of our global customers.
With over 50 years of experience, our expert engineering and production teams develop enabling technologies and products to meet the needs of an evolving motion control market. We are very proud of our outstanding company history. Our high-precision, zero-backlash Harmonic Drive® gears and Harmonic Planetary® gears have, and continue to play critical roles in robotics, spaceflight applications, semiconductor manufacturing equipment, factory automation equipment, medical diagnostics and surgical robotics. More information can be found by visiting the company's website at www.harmonicdrive.net
Harmonic Drive LLC Contact:
Colleen Anderson, Marketing Manager / marketing@harmonicdrive.net / 978-573-3427
More from Mechanical Power Transmission