Dimensional Measurement & Inspection Probes
Latest FARO Prizm Laser Line Probes Come with Ability to Scan 3D Color
Press Release Summary: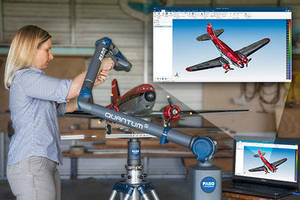 The FARO Prizm Laser Line Probes are suitable for molded parts where color and surface texture are required. These probes are used with FARO Quantum ScanArm arm family. The unit's color scan enables user to view and manipulate detail 3D color point cloud model on a computer screen.
---
Original Press Release:
FARO® Innovates in 3D Color for Metrology Applications
First Color Scanning Laser Line Probe for Manufacturing Inspection
LAKE MARY, Fla., Aug. 16, 2018 /PRNewswire/ -- FARO® (NASDAQ: FARO), the world's most trusted source for 3D measurement and imaging solutions for factory metrology, product design, construction BIM/CIM, public safety forensics and 3D machine vision solutions introduces the next generation of Laser Line Probes (LLP), the FARO PrizmTM . PrizmTM is the first LLP available that includes the ability to scan in high resolution, 3D color.
PrizmTM is designed specifically to operate as a compact, tightly integrated solution with the FARO Quantum ScanArm arm product family and extends the FARO tradition of delivering maximum measurement consistency for both direct-to-parts contact and non-contact requirements in every working environment.
PrizmTM has certified accuracy for the most demanding metrology challenges. The color scan allows users to view and manipulate a detail rich, 3D color point cloud model of a part or assembly on a computer screen. This is ideally suited for molded parts where color and surface texture are an essential requirement of the complete inspection.
To request additional information about the FARO Quantum ScanArm with Prizm™ and learn more about our web demonstration options, please visit: https://www.faro.com/prizm-info-request
This introduction rounds out the best in class Laser Line Probe portfolio that also includes the FAROBluTM Laser Line Probe and provides users with the unique flexibility to select the option that best fits a specific situation or a specific project.
Best in Class Dimensional and Qualitative Inspection
This innovation enables parts and objects to be inspected for dimension and surface quality. This is ideally suited for molded parts where color and surface texture are an essential requirement of the complete inspection, or for identifying splits on stamped sheet metal not detectable with existing technologies. Fine details including texture, such as weld marks, grinding marks, sandblasting and machining patterns, and even text, can be clearly extracted for identification of key features during the inspection process. The true-to-life functionality enhances productivity by supporting inspection professionals in driving out dimensional and surface character quality issues that would otherwise slow the end-to-end the production process.
"Given our extensive experience in metrology as one of the pioneers in portable measurement arms, we understand that monochrome Laser Line Probes are considered good enough for a wide range of inspection challenges," stated Pete Edmonds, Vice President - Factory Metrology. "However, we take our role as innovator and visionary seriously, so we are determined to look beyond 'good enough'. With the PrizmTM Color LLP, we believe that we have reset the expectations of what a high value portable measurement arm solution can be and should be."
About FARO
FARO is the world's most trusted source for 3D measurement, imaging and realization technology. The Company develops and markets computer-aided measurement and imaging devices and software for the following vertical markets:
Factory Metrology - High-precision 3D measurement, imaging and comparison of parts and complex structures within production and quality assurance processes
Construction BIM - 3D capture of as-built construction projects and factories to document complex structures and perform quality control, planning and preservation
Public Safety Forensics - Capture and analysis of on-site real world data to investigate crash, crime and fire, plan security activities and provide virtual reality training for public safety personnel
Product Design - Capture detailed and precise 3D data from existing products permitting CAD analysis and redesign, after market design and legacy part replication
3D Machine Vision - 3D vision for both control and measurement to the manufacturing floor through 3D sensors and custom solutions
FARO's global headquarters is located in Lake Mary, Florida. The Company's European regional headquarters is located in Stuttgart, Germany and its Asia-Pacific regional headquarters is located in Singapore. FARO has other offices in the United States, Canada, Mexico, Brazil, Germany, the United Kingdom, France, Spain, Italy, Poland, Turkey, the Netherlands, Switzerland, India, China, Malaysia, Thailand, South Korea, Japan, and Australia.
CONTACT: Robert Gourdine, Vice President of Global Marketing, Robert.Gourdine@faro.com
Web Site: http://www.faro.com
More from Fasteners & Hardware