Latest EyeC ProofBook Features Duplex Scanner with an Automatic Feeder
Press Release Summary: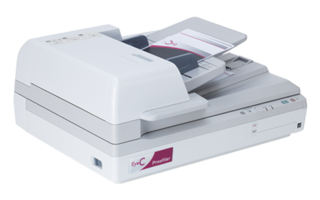 EyeC ProofBook is designed for scanning and inspecting size A6 to A3 documents at up to 600 dpi. Unit automatically scans and inspects multi-page documents such as brochures, prospectuses, books and catalogs at speeds up to 20 pages a minute at 300 dpi. The scanner is embedded with improved algorithm to locate defects and can read 1D and 2D codes. The automatic feeder takes up to 200 pages and the scanner enables random sample inspection of folding boxes, labels and flexible packaging.
---
Original Press Release:
New EyeC ProofBook Inspects Multi-Page Documents with More Speed and Precision
Automatically inspects brochures, prospectuses, books and catalogs
Checks five times faster than the previous model
Random sample inspection of multi-page documents, labels, leaflets and folding boxes with just one system
Hamburg, June 11, 2018. With the new version of EyeC ProofBook, printers and their customers inspect multi-page documents like brochures, prospectuses, books and catalogs with greater speed and precision. Inspections are performed five times faster than with the previous model due to a new high-performance scanner and an improved algorithm for locating defects.
The new EyeC ProofBook scans and examines up to 20 pages a minute at 300 dpi. The system compares the front and back of each page against the approved PDF template and shows the operator the suspicious pages for more precise examination of the deviations. The intuitive user interface helps perform a full inspection in just a few clicks and is available in all major languages. The print image quality can be checked at any time and the inspection results traced with the inspection report generated at the end of the inspection.
The EyeC ProofBook has a duplex scanner with an automatic feeder that can take up to 200 pages. The system scans and inspects size A6 to A3 documents at up to 600 dpi and can pull in paper from 35 to 128 g/m². Moreover, regular operation as a flatbed scanner allows random sample inspection of folding boxes, labels and flexible packaging. With additional software options, the system also reads 1D and 2D codes.
"With the EyeC ProofBook, our customers can check all sorts of print samples quickly and precisely," explains Dr. Ansgar Kaupp, CEO of EyeC GmbH. "This offers attractive cost advantages and simplifies the inspection process."
About EyeC
Founded in 2002 in Hamburg, Germany, EyeC is the market's only supplier to ensure the product quality throughout the entire printing process – from the first artwork file to the finished product. The product portfolio includes file-to-file comparison for artwork revision control and prepress applications, as well as print-to-file inspection systems for press sample testing and 100% print quality control of products such as folding cartons, labels, leaflets, or flexible packaging. The market's most intelligent algorithms ensure that the systems show only relevant defects. With EyeC products, users avoid recalls, keep production costs and material waste in check and optimize their quality control. Worldwide, there are over 1,800 EyeC inspection systems in use by pharmaceutical companies, printers, and branded good manufacturers. The company currently has over 60 employees in Hamburg and has international sales partners in more than 20 countries.
Media contact
Stefanie Martens, EyeC GmbH, Tel. +49 40/22 63 555-122, [email protected]
Virginie Gaillard, EyeC GmbH, Tel. +49 40/22 63 555-114, [email protected]