Latest Evolution of Crestron DM NVX AV-over-IP Technology Debuts at ISE 2020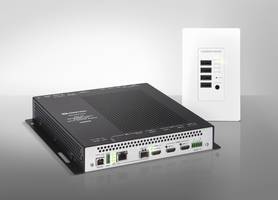 Ultra-fast no-glitch switching now available across entire product line; native support for AES67 audio-over-IP standard coming soon
Amsterdam, The Netherlands – February 10, 2020 – Crestron, a global leader in workplace technology, will unveil the latest enhancements to its industry-leading DM NVX® AV-over-IP platform at ISE 2020: native support for the AES67 audio-over-IP standard and ultra-fast, no-glitch switching. The new functionality will be available for existing DM NVX products via a free firmware upgrade. With support for AES67, DM NVX endpoints can send breakaway audio from a video source to mixers, DSPs, and amplifiers, as well as receive signals from mixers, DSPs, and microphones that support the AES67 standard. New ultra-fast, no-glitch switching delivers virtually imperceptible switching from one network stream to another.
"We have a steadfast commitment to continuously evolving the DM NVX platform to be the best in every way," said Josh Stene, VP of Marketing at Crestron. "Last year, we brought exclusive Pixel Perfect Processing technology to DM NVX to deliver image quality as good as the source, and over a standard 1 gigabit network – no need for all the expense and disruption of installing a new 10 gigabit network. This year, we've taken audio support and switching speed to an entirely new level. Even better news, these capabilities will be implemented across the entire product line."
New NX2 Series USB-over-IP network products
Also debuting at ISE 2020 is the NX2 Series, a range of DM NVX USB-over-IP endpoint extenders in a wall plate form factor. They provide seamless routing and extension of USB 2.0 signals across the network between NX2 devices and are completely interoperable with DM NVX products. Now, routing USB 2.0 peripherals, such as keyboard, video, mouse, webcams, microphones, or mass storage, couldn't be easier. The NX2 Series can be used to create a robust network KVM (Keyboard, Video, and Mouse) solution, for example.
The standard in network AV
More than just distribution of flawless 4K60, 4:4:4, and HDR video, DM NVX is a complete, infinitely scalable solution. It also pushes audio, control, and USB 2.0 through a single encoder/decoder, significantly reducing system costs and adding flexibility. DM NVX delivers all this over existing 1Gb infrastructure, eliminating the high cost and disruption of running new cabling.
Advanced network security and easy deployment
DM NVX leverages 802.1x authentication, AES encryption, and Active Directory® technology to provide enterprise-grade security at the product level. And with the DM NVX Director™ network appliance, you can literally configure and deploy a thousand DM NVX endpoints in the same time it used to take to configure just one AV device the traditional way.
Learn more
Crestron is demonstrating the latest enhancements to the DM NVX AV-over-IP platform, along with all of its other solutions for the modern workplace and home, in Hall-2, Stand C20 at ISE 2020, 11 – 14 February, 2020.
About Crestron
At Crestron we build the technology that integrates technology. Our automation and control solutions for homes and buildings let people control entire environments with the push of a button, integrating systems such as AV, lighting, shading, security, BMS and HVAC to provide greater comfort, convenience and security. All of our products are designed and built to work together as a complete system, enabling you to monitor, manage and control everything from one platform.
 
Our products are backed by more than 90 fully-staffed offices that provide 24 x 7 x 365 sales, technical, and training support across the globe. In addition to its World Headquarters in Rockleigh, New Jersey, Crestron has sales and support offices throughout the U.S., Canada, Europe, Asia, Latin America, and Australia. Discover Crestron by visiting www.crestron.com.
Contact: Ron Epstein
Crestron Electronics, Inc.
Phone: (201) 564-6047
[email protected]