Desiccants and Molecular Sieves (Adsorbents)
Latest DEXSORB+ Adsorbents are Used for Removal of over 20 PFAS Compounds
Press Release Summary: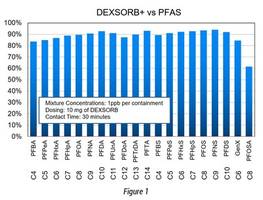 Adds ion exchange affinity to cyclodextrin adsorbents for removing and uptake of over 20 short and long chain PFAS compounds
Used in the removal of PFOA, PFOS and perfluorinated (PFAS) compounds from contaminated water supplies
Available for home use, portable water bottles and municipal drinking water treatment
---
Original Press Release:
CycloPure Supercharges DEXSORB™ for PFOA and PFOS Removal
DEXSORB+ Effective Against over 20 PFAS Compounds
ENCINITAS, Calif., Feb. 28, 2019 /PRNewswire/ -- CycloPure, Inc., a leading innovator in water purification technologies, today announced DEXSORB+, a major advance in PFAS removal technology. Part of CycloPure's expanding line of DEXSORB™ adsorbents, DEXSORB+ features two mechanisms that work to rapidly remove PFOA, PFOS and other perfluorinated (PFAS) compounds from contaminated water supplies. Using a new process, DEXSORB+ adds ion exchange affinity to its powerful cyclodextrin adsorbents, which result in a several-fold improvement in the removal and uptake of over 20 short and long chain PFAS compounds.
In a recently completed study under the National Institutes of Health Environmental Health Sciences "Superfund Research Program", the company reported that DEXSORB+ "can remove >95% of PFOA and PFOS from an initial concentration of as low as 500ppt in only 30 minutes."[1] In other testing, the company has shown exceptional removal against a group of 20 short and long chain PFASs, including GenX, with low dosing and short contact time.
 "This is an exciting leap forward for us," said CycloPure Chief Executive Officer Frank Cassou. "Because of the urgency of water contamination by PFOA and PFOS, we prioritized the design and optimization of DEXSORB+ to quickly get it in the hands of our water treatment collaborators."
Communities across the country are dealing with the issue of PFAS contamination of their drinking water, which has quickly risen to a level of national concern. Earlier this month, the EPA released its PFAS Action Plan.[2] This followed a June 2018 CDC report that documented the health hazards associated with exposure to PFAS compounds from drinking water at low concentrations, with minimum risk levels as low as 11 ppt for PFOA and 7 ppt for PFOS.[3] In another government study, the USGS reported on the extent of PFAS contamination in drinking water supplies, finding the contaminants present in all 50 samples compared to detection in only 3% of samples 2 years earlier.[4]
Will Dichtel, CycloPure's Chief Science Officer and a MacArthur Fellow, commented that "little has changed in the science of adsorbents for decades. It is exciting to see this technology, which uses corn-based cyclodextrin, offer the potential of life-saving water treatment." He added that "there is growing recognition that the problem of contamination extends beyond PFOA and PFOS to the shorter and longer-chain PFAS chemicals as well. We now have the technology tools to make improvements that simultaneously lower material cost, increase removal rates, and expand effectiveness against the broader class of PFAS compounds."
"Safe drinking water is not an option," Cassou concluded. "Water supplies need to promote health not illness. We are working to make eco-friendly DEXSORB™ available for use in multiple form factors for home use, portable water bottles, and municipal drinking water treatment. We are targeting launch of our first DEXSORB+ product later this year."
About CycloPure
Founded in 2016, CycloPure is a materials science company and a leader in water purification technologies. The company's line of DEXSORB™ adsorbents are based on breakthrough technology that converts renewable cyclodextrins (derived from corn starch) into highly-adsorbent materials capable of eliminating micropollutants from drinking water. Flexible in design, CycloPure has developed multiple formulations, including DEXSORB™ and DEXSORB+, to address different problems of water treatment.
CycloPure's DEXSORB™ adsorbents can be produced in varying particle sizes, allowing for use across a broad spectrum of water purification applications. The company is working with global partners to produce and distribute its DEXSORB™ adsorbents to meet worldwide interest from manufacturers of home water filtration products, water treatment facility operators, food and beverage companies, and municipalities.
For more information about CycloPure, Inc. and its mission to make water safer with novel adsorption technology, please visit www.cyclopure.com or follow CycloPure at twitter.com/cyclopure, and facebook.com/cyclopure/. For Media Inquiries, contact Roy Berger at rberger@cyclopure.com.
[1] National Institutes of Environmental Health Sciences, Superfund Research Program, Grant No. R43ES029401, "Remediation of Perfluorinated Chemicals in Water Using Novel High-Affinity Polymer Adsorbents", Outcomes https://projectreporter.nih.gov/project_info_outcomes.cfm?aid=9555528&icde=39590241
[2] https://www.epa.gov/sites/production/files/2019-02/documents/pfas_action_plan_021319_508compliant_1.pdf
[3] https://www.nhpr.org/post/cdc-study-shows-pfas-chemicals-may-be-risky-lower-levels-nh-regulates#stream/0
[4] https://www.sciencemag.org/news/2019/02/worrisome-nonstick-chemicals-are-common-us-drinking-water-federal-study-suggests?utm_source=newsfromscience=flipboard=flipboard2417207
Contact: Roy Berger 

Phone: (203) 858-3839 

Email: rberger@cyclopure.com
Related