Latest ClearMark Thermal Inkjet Printer Delivers Print Speed of 200 ft Per Minute
Press Release Summary: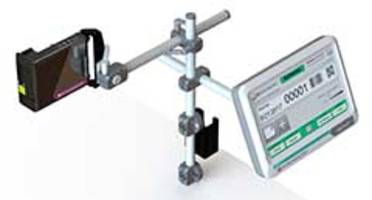 The ClearMark™ Thermal Inkjet Printer from ID Technology is used in printing high quality text, graphics and barcodes onto almost any porous or non-porous substrate. The unit provides a print height of 12.5 mm with a resolution of up to 600 dpi. The printer is offered with a 25 cm color touchscreen that allows user to interface via common function buttons. It features USB and an Ethernet port that enables user to connect to a PC, PLC or plant-wide network or cloud.
---
Original Press Release:
ID Technology Introduces ClearMark™ Thermal Inkjet Printer
New HP-based high-resolution printer simplifies use and minimizes maintenance
FORT WORTH, Texas, September 19, 2018 – ID Technology, a ProMach product brand, introduces their new ClearMark™ thermal inkjet (TIJ) printer at Pack Expo International Booth #S-3530. Built around HP's latest TIJ technology, ClearMark prints high quality text, graphics and barcodes onto almost any porous or non-porous substrate, providing the capability to add fixed and variable data, including serialized 2D data matrix barcodes, directly to primary or secondary packages or preprinted labels. This next-generation smart inkjet printer sets a new standard in ease-of-use.

"We designed ClearMark from the ground up with valuable features that deliver functional benefits in many facets. For example, we utilize a heavy-duty metal printhead, rather than a plastic casing alternative, to enhance the machine's durability. HP's Smart Card technology and our large 10-inch display with intuitive software allow for easier operation. Our new mounting hardware also simplifies installation," said, Brad Jones, Director of Business Development for TIJ at ID Technology. "ClearMark is also easy to maintain. There is no need to flush the system or change filters – all the messiness that comes with a CIJ [continuous inkjet] printer is eliminated. Also, the environmental impact is better, with as much as 95 percent less VOCs." 

ClearMark is ideal for customers packaging a wide variety of foods, beverages such as craft beers in bottles or cans, medical devices, pharmaceuticals, household chemicals and other products. ClearMark is especially valuable on production lines that operate at lower volumes, run sporadically or change over frequently. Simply replace the cartridge and instantly print the next color or type of ink. 

New inks have recently been developed that enable TIJ technology to satisfy a broader range of applications. Inks formulated to print on almost any porous or non-porous material are now available from ID Technology in many different colors, including UV-visible and UV-curable inks.

ClearMark is ushering in the next generation of inkjet technology with its smart printhead that eases set-up and operation. Messages and parameters are saved to the printhead's on-board memory, enabling ClearMark to operate without being connected to an external controller. Settings associated with each ink are stored on the cartridge Smart Card and automatically retrieved so operators need not adjust those parameters during changeovers. When an ink cartridge is removed from the printer, the Smart Card records how much ink remains to minimize the possibility an operator will attempt to use an empty cartridge later or discard a cartridge with ink.

Users can interface with ClearMark via common function buttons found directly on the smart head as well as on the system's large 10-inch (25-cm) color touchscreen. ID Technology's intuitive new HMI features an uncluttered display with icon-based navigation to simplify programming and monitor system status. Additionally, ClearMark can share data via a USB pen drive and an Ethernet port that facilitates connection to a PC, PLC, plant-wide network or the cloud. This enables users to create and edit messages off the plant floor, automate changeovers, integrate with serialization systems and troubleshoot remotely.

ID Technology eases set-up with an intuitive message creation wizard that offers full WYSIWYG drag-and-drop functionality for both new compositions and editing. True Type fonts and unlimited fields for counters, time, date, barcodes, logos and graphics are available. ClearMark's HMI also provides live feedback on count values, prints remaining in the cartridge, line speed and production rate.

For customers that require the highest print quality, ClearMark can be set to achieve a resolution of up to 600 dpi. If set to print 300 dpi, ClearMark typically maintains speeds of 200 feet per minute (61 m/min) and can reach higher speeds when printing at lower resolutions. It offers a print height of 1/2 inch (12.5 mm) and unlimited print length. 

ClearMark is simple to install, with standard mounting hardware made of round tubular metal with multiple points of adjustments that enable it to fit perfectly onto virtually any new or existing packaging line. Unlike mounting hardware made of square tubing that's locked into 90 degree increments, ClearMark's mounting hardware swivels into a wider variety of positions. 

Pharmaceutical manufacturers and contract packers that need track-and-trace solutions can use ClearMark to serialize and aggregate. Consistently printing high density 2D data matrix bar codes onto a wide variety of packaging substrates, along with easy integration with upstream and downstream systems as well as plant-wide and cloud-based networks, ClearMark will print serialized code onto primary packages, secondary packages and pre-printed labels.

"This is the first in our new ClearMark family of smart thermal inkjet printers. As HP continues to introduce new TIJ technology, we'll design new systems around it and further expand the family's capabilities," said David Holliday, Director of Product Marketing at ID Technology. "For many customers, TIJ systems offer huge advantages over CIJ. In addition to eliminating the mess of flushing a CIJ printer, new TIJ systems are able to offer a lower total cost of ownership after the labor and downtime of maintenance are factored in. ClearMark reliably produces high quality print while presenting a super easy to use, maintenance-free system." 
About ID Technology
Customers around North America depend on ID Technology to design, build and install the most effective product, case and pallet identification systems for their production lines. While being a leading manufacturer and integrator of labeling, coding and marking equipment, ID Technology also operates six regional label converting facilities across North America that can produce quality labels and tags quickly and efficiently in run volumes of any size. As part of the ProMach Labeling & Coding business line, ID Technology helps packaging customers protect and grow the reputation and trust of their consumers. ProMach is performance, and the proof is in every package. Learn more about ID Technology at www.IDTechnology.com.

About ProMach
ProMach is a family of best-in-class packaging solution brands serving manufacturers of all sizes and geographies in the food, beverage, pharmaceutical, personal care and household and industrial goods industries. ProMach brands operate across the entire packaging spectrum: filling and capping, flexibles, pharma, product handling, labeling and coding and end of line. ProMach also provides Performance Services, including integrated solutions, design/build, engineering services, and productivity software to optimize packaging line design and deliver maximum uptime. 

ProMach designs, manufactures, integrates and supports the most sophisticated and advanced packaging solutions in the global marketplace. Its diverse customer base, from Fortune 500 companies to smaller, privately held businesses worldwide, depends on reliable, flexible, technologically advanced equipment and integrated solutions. ProMach is headquartered near Cincinnati, Ohio, with manufacturing facilities and offices throughout the United States, Canada, Mexico, Brazil, Europe, United Arab Emirates and China. For more information about ProMach, visit www.ProMachBuilt.com.
Media Contact:
John Eklund | Vice President, Marketing
ProMach
John.Eklund@ProMachBuilt.com
+1 704 944 5340
More from Labels Tags Signage & Equipment