Latest BLACK Rugged SD Memory Cards Come with Enhanced Reliability and Long-Term Functionality
Press Release Summary: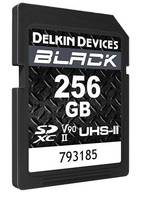 Available in UHS-I (V30) and UHS-II (V90) that feature redesigned casing
Cards are dust, water and shock-proof and can withstand temperatures ranging from -25°C to 85°C
Designed to be 3 times stronger than regular SD cards and can withstand over 45 pounds of impact
---
Original Press Release:
Delkin Upgrades BLACK SD Case, Guaranteeing Complete All-Around Protection
POWAY, CA, JULY 2, 2020 - Delkin Devices, a manufacturer of flash storage solutions and camera accessories, announced today an upgrade to their current line of BLACK Rugged SD memory cards. Available in UHS-I (V30) and UHS-II (V90), Delkin's BLACK Rugged SD cards now feature a brand new redesigned casing (no write-protect switch or plastic ribs that run in between the contacts on the back) in order to enhance reliability and ensure long-term functionality.
Under the new SD 6.0 standard, SD memory cards can be designed without a write-protect switch and rear plastic ribs. By removing the write-protect switch, the card will never go into read-only mode, which prevents the card from being written to. Delkin's redesigned BLACK Rugged SD cards ensure a smoother, more trustworthy user experience.
"Since its introduction back in 2014, Delkin BLACK Rugged has grown to be one of our most popular and successful memory lines to date" says Jenn Sherry, Delkin's Retail Sales & Marketing Manager, "But we're always evaluating our products and thinking of new ways to improve them. Delkin's top priority has always been to provide our customers with the best-quality products, ensuring that their precious memories are protected and preserved, and we remain committed to that goal."
Although Delkin BLACK Rugged SD cards are now utilizing a new case, they are just as (if not more) rugged and durable as the previous version. Built using a proprietary manufacturing process and patented by Delkin, BLACK Rugged SD cards are designed to be 3 times stronger than regular SD cards and able to withstand over 45 pounds of impact. This specialized housing is manufactured using innovative materials and processes, making the card virtually unbreakable and superior in terms of reliability and ruggedness. In addition to being significantly stronger and far less breakable than a standard SD card in bend/pressure tests, BLACK Rugged cards are also dust, water and shock-proof, while withstanding temperatures ranging from -25°C to 85°C.
In addition to their "Lifetime Warranty" policy, Delkin continues to offer a unique built-in insurance policy for their BLACK Rugged memory cards, known as the "48-Hour Replacement Guarantee". Delkin will replace any non-working BLACK Rugged card within 48 hours or less (not including weekends), prior to receiving the non-working card. Cards can also be replaced over-the-counter at any authorized Delkin BLACK reseller.
Delkin products are sold through authorized camera stores worldwide. For more information on Delkin BLACK Rugged SD memory cards, please visit www.delkindevices.com/delkin-black/.
About Delkin Devices, Inc.
Delkin Devices' consumer group manufactures storage devices and digital accessories for the photography market. Delkin has been in business since 1986 and has offices located in both the U.S. and Europe. If you would like more information regarding this product or any other Delkin product, please contact Jenn Sherry at (714) 869-4264 or email at jsherry@delkin.com.
More from Material Handling & Storage