Latest BeerBox Beer Vending Machine Features Cashless Payment System
Press Release Summary: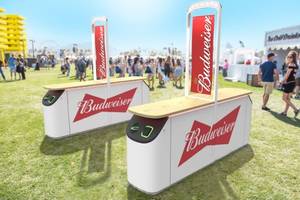 BeerBox Internet-Connected Beer Vending Machine dispenses cans of ice cold beer. Unit comes with cellular, WiFi, and Ethernet connectivity that helps in payment processing, transaction reporting and maintenance functions. The machine minimizes waiting in line and helps concessioners to increase sales.
---
Original Press Release:
Intelligent Product Solutions (IPS) Partners with ZX Ventures/AB InBev to Develop First Internet-Connected Beer Vending Machine Dispensing Opened Cans
Helps Reduce Waiting in Line and Delivers Chilled Cans of Beer
HAUPPAUGE, N.Y. and NEW YORK, June 20, 2018 (GLOBE NEWSWIRE) -- Intelligent Product Solutions (IPS), a global product design and development firm, partnered with ZX Ventures, a division of AB InBev, to design and develop an Internet "connected" beer vending machine that dispenses cans of ice cold beer, featuring a cashless payment system that accepts all major credit cards and mobile wallets (i.e. Google Pay and Apple Pay). Called BeerBox, ZX Ventures plans to roll out these first-of-a-kind connected "bar-like" beer vending machines later this year at select concert and sports venues nationwide.
The BeerBox is the first beer vending machine to dispense opened cans of chilled beer. Future versions of the machine will enable customers to select their beer of choice using a touchscreen interface. The BeerBox has cellular, WiFi, and Ethernet connectivity for payment processing, transaction reporting, and maintenance functions, and GPS to provide machine location.
According to Robert Gaafar, Global Director of ZX Ventures' Explore and BeerBox Founder, "Instead of standing in long lines at a music festivals and sporting events, the BeerBox makes it much more convenient to purchase a beer and helps concessioners increase sales - it really doubles as a bar."
The initial idea for the BeerBox came out of ZX Ventures' accelerator program. Gaafar selected IPS to come on board to turn the vision into a product – taking it from discovery phase to prototype to testing and manufacturing. With the first prototypes available last summer, ZX Ventures piloted them at three music festivals with great success, and is now rolling out the improved version of BeerBox at select concert and sports venues this summer.
"We selected IPS as our product design partner because of its full range of product design expertise, and in particular, its expertise in designing IoT products and Wi-Fi solutions," said Gaafar. "IPS helped us to design a product that can be easily manufactured, improve the look and feel of the BeerBox, and boost its overall reliability."
He added, "One of the design challenges that we worked with IPS to overcome was the size of the can, as dispensing a 25-ounce was essential because it is the standard size used at most concert locations. Other challenges included dispensing opened beer cans to comply with liquor laws, and cooling to ensure the beer was the right temperature for the customer's maximum enjoyment." 
According to Mitch Maiman, President and Cofounder of Intelligent Product Solutions, "Working with Robert and ZX Ventures was a true partnership, and we are thrilled to work with such an innovative company to help make its design concepts a reality."
About IPS
IPS, a subsidiary of Forward Industries (NASDAQ:FORD), is an award-winning global product design and development company that is headquartered in New York, with an office in London. IPS offers expert product design and engineering services, including Internet of Things (IoT) and wearable technology solutions. Its clients are among the leading brands in consumer electronics, medical devices, enterprise and security solution providers, and Internet of Things (IoT) connected solutions, including AdhereTech, Google, Physio Control, Motorola, and charity: water. To learn more about IPS, visit www.intelligentproduct.solutions or contact info@ips-yes.com or @IPSdesigners.
About ZX Ventures
ZX Ventures is a global growth and innovation group within AB InBev, the world's leading global brewer and one of the world's top five consumer products companies. Launched in 2015, its mandate is to develop new products and businesses that address emerging consumer needs. ZX Ventures operates multiple global business units including international craft & specialties beer, e-commerce, home brewing, exploration and brand experience (including retail stores).
For more media information, contact:
Lisa Hendrickson/LCH Communications for IPS
516-767-8390
lisa@lchcommunications.com
Related