Latest APTO Series Cutoff Wall Pack Lights are Offered in Die-Cast Aluminum Housing
Press Release Summary: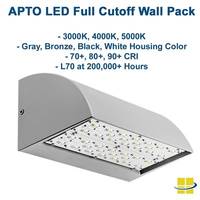 The Access Fixture's APTO Series Cutoff Wall Pack Lights are available in standard housing colors choices such as gray, architectural bronze, black, and white with turtle friendly option. The APTO lights are L70 rated at 200,000 hrs with wattages ranging from 30 W to 80 W. They are offered in 3000K, 4000K, or 5000K color temperatures and has a CRI of 70+.
---
Original Press Release:
Access Fixtures Introduces APTO Full Cutoff Wall Pack Light
WORCESTER, Mass., Nov. 8, 2018 /PRNewswire/ -- Access Fixtures introduces a new full cutoff wall pack light, adding to their line of LED wall packs. The APTO wall pack is similar to Access Fixtures' APTU wall pack but features a sleek and streamlined full cutoff shape. Lighting design can make a big difference in terms of how the appearance of a building is perceived. Full cutoff wall packs are perfect for areas where light trespass might be an issue. An IP65 rating and a die-cast aluminum housing mean durability and protection from the elements. Standard housing color choices include gray, architectural bronze, black, and white. The APTO wall pack even features a turtle friendly option.
"APTO wall packs are fantastic when you want sleek architectural lighting and need specific options for your application," says Access Fixtures CEO Steven Rothschild. "With a broad selection of housing colors, wattage, optics, beam spread, and Kelvins, an optional emergency power supply, photocell and more, APTO can be built to meet your exact requirements."
Wall Packs Loaded With Options
Like the APTA and APTU LED fixture families, APTO wall packs are available with a variety of impressive options. All of these fixtures are L70 rated at 200,000 hours, meaning years of life. Wattages range from 30w to 80w and include turtle-friendly amber wavelength models as well. Color temperature has a large effect on the overall appearance of a lighting project. APTO wall packs are available in choice of 3000K, 4000K, or 5000K at no additional cost. APTO wall packs come in a standard color rendering index of 70+ but are also available at higher CRIs. Need dimming or motion sensing capabilities? APTO wall packs also include a 0-10v line dimming option or a motion sensor for nighttime security. This wall pack is covered by a 5-year Access Fixtures warranty.
About Access Fixtures
Access Fixtures is your factory-direct source for commercial, industrial, hospitality and sports high-performance lighting solutions. With custom manufacturing capabilities, Access Fixtures builds durable, long-life LED luminaires for general lighting applications and specialty markets including transportation, freight terminals, sports fields and arenas, clean rooms, power plants, warehouses, and manufacturing facilities. Luminaire types include wall packs, area lights, bollard lights, sports lights, post top and high bays. For more information, visit Access Fixtures at www.accessfixtures.com.
Media contact:
Cara Porcella
204543@email4pr.com
800-468-9925
More from Agricultural & Farming Products