Latest Amplify Power Management System Provides Access to Vital Data about the Generator
Press Release Summary: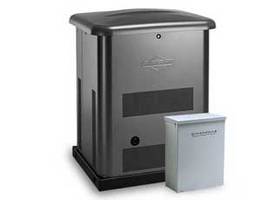 Enables customer to prioritize and manage standby power for leveraging streamlined diagnostics
It allows homeowners to adjusts priorities up to 35 high-wattage appliances via smartphone app in real-time
InfoHub system collects data and sends alerts for scheduled maintenance
---
Original Press Release:
Briggs & Stratton Launches Next Generation Power Management System, and Enhances InfoHub
Amplify power management and improved InfoHub™ available on new 12kW*, 17kW*, 20kW* generators
MILWAUKEE, Feb. 14, 2019 /PRNewswire/ -- Briggs & Stratton Corporation is pleased to introduce Amplify™, the next generation of its Symphony® II power management system, and enhanced InfoHub™ mobile monitoring technology. Both technology systems are available on the recently launched 12kW*, 17kW* and 20kW* generators.
"These technologies allow customers to prioritize and manage standby power with increased capabilities and flexibility. Control is also improved with access to vital data about the generator unit's performance," said Josh Cirillo, product manager. "This allows customers to maintain their lifestyles with informed standby power usage, and leverage streamlined diagnostics for improved service and support."
Briggs & Stratton's power management system offers customers customizable control over their power needs when relying on a standby generator. Amplify is the newest version of the system, and now allows users to prioritize up to 32 high-wattage appliances — previously eight — based on their specific power needs. Also, homeowners can now adjust priorities through a smartphone app in real-time with this version.
In the past, priorities were chosen and set during installation. "Now, homeowners can ensure their lives are truly never interrupted by powering appliances as needed and reprioritizing throughout the year," said Cirillo.
The enhanced InfoHub system continues to provide customers with mobile monitoring capabilities, and the new version offers expanded diagnostic services. The system now collects additional data that is sent to both customers and their dealers and can send alerts for scheduled maintenance. It also offers remote start and stop, remote troubleshooting and allows dealers to diagnose — and, in some instances, address — issues from afar.
About Briggs & Stratton Corporation:

Briggs & Stratton Corporation (NYSE: BGG), headquartered in Milwaukee, Wisconsin, is focused on providing power to get work done and make people's lives better. Briggs & Stratton is the world's largest producer of gasoline engines for outdoor power equipment, and is a leading designer, manufacturer and marketer of power generation, pressure washer, lawn and garden, turf care and job site products through its Briggs & Stratton®, Simplicity®, Snapper®, Ferris®, Vanguard®, Allmand®, Billy Goat®, Murray®, Branco® and Victa® brands. Briggs & Stratton products are designed, manufactured, marketed and serviced in over 100 countries on six continents. For additional information, please visit www.basco.com and www.briggsandstratton.com.
*This generator is certified in accordance with UL (Underwriters Laboratories) 2200 (stationary engine generator assemblies) and CSA (Canadian Standards Association) standard C22.2 No. 100-14 (motors and generators).
CONTACT: Kelsey Batschelet, Two Rivers Marketing, 515.557.2082, kbatschelet@2rm.com
Web Site: http://www.briggsandstratton.com
Related