Latest Active Directory Sync Feature Allows Customer to Sync Active Directory Users to inventory Management System
Press Release Summary: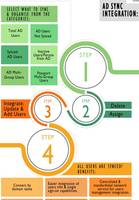 ASAP System's Active Directory Sync Asset Tracking Software enables customer to manage users by deleting inactive users and integrating list of users directly from the active directory to their inventory system. AD Sync feature offers the flexibility to manage the integration functionality of users from AD to ASAP systems Passport. The software enables user to avoid the accumulation of inactive users and excess data.
---
Original Press Release:
ASAP Systems, an Inventory Tracking SaaS Provider, Announces its New Enhanced Active Directory Sync Feature
ASAP Systems, a leading Inventory Management System and Asset Tracking Solution provider based in Austin, Texas has improved its AD Sync feature, facilitating the customers' management and organization of users in their system. This is done through the 'Integration' option that allows customers to sync Active Directory users to their inventory management system.
AUSTIN, TEXAS (PRWEB) JULY 10, 2018
ASAP Systems, the leader in Inventory System and Asset Tracking Solutions, enhances its Active Directory Sync feature. Customers now have the ability to manage their users by deleting inactive users, and 'integrating' their list of users directly from the active directory to their inventory system. With the enhanced AD Sync feature, customers can now manage their directory of users and avoid the accumulation of inactive users and excess data.
After logging into their asset tracking solution, customers should select the Admin tab then go to 'Integration Settings' then 'Active Directory'. Click on a group of users and press 'Sync'. This will open a new page divided into six categories. The first category is 'Total AD Users'. This category represents users that are available in the active directory. They are labeled with a username and site. Some are active while others are inactive. You may choose whether to keep them or delete them. The second category is 'AD Users Not Synced'. In this category, there is a list of all AD Users that do not exist in the inventory system. Users that have not been synced will appear in this category. The third category 'Synced AD Users' only shows users that have been synced.
The fourth category 'Inactive Users/Person from AD' shows users that are in the asset tracking solution but not in the Active Directory. This list of users was added manually. You can delete unwanted users manually one by one or select several users and click on the 'batch actions' then 'delete'. Press 'integrate' on the upper right side to sync (add or update) the rest of the records from the AD Server to the inventory system. The fifth category is 'AD Multi-Group Users'. Users that belong to multiple groups will appear in this category. These users would appear twice if they belong to two groups. The sixth and last category 'Passport Multi-Group Users' contains users who are admins and simultaneously standard users in another group. In such a case, you can choose if you want this user to be synced as an admin, a standard user, or both.
"The purpose of the AD Sync feature is to organize your users", says ASAP Systems' Head of Engineering Joseph Azzi. "This new way gives more flexibility to manage the integration functionality of users from the AD to ASAP Systems' Passport. It keeps the list of users concise, accurate, and active." Therefore, by first choosing the groups from the AD list and pressing 'Sync' then 'Integrate', the list of users will be integrated in ASAP Systems' Passport.
About ASAP Systems 
We solve the biggest problem in Inventory Management and Asset Tracking: Everyone does it differently. Through many years of experience working on a vast range of unique customer requirements, we have developed unmatched expertise in providing solutions that fit almost any budget, technical and user requirement. Our highly-configurable and scalable barcodes are designed to provide maximum value today, tomorrow, and into the future. ASAP Systems have offices in San Jose, California (headquarters), and Austin, Texas. Please visit us at https://www.asapsystems.com/.
Contact Information
Rita Yachoui
Marketing
http://https://asapsystems.com
8888686282
More from Packaging Products & Equipment