LaserStar Launches Open Laser Engraving System and Laser Welder
Press Release Summary: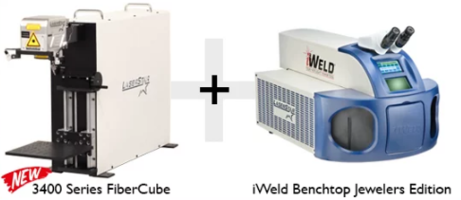 iWeld jewelers welds silver along with other complex alloys
Repair costume jewelry, eyeglass frames and watches
FiberStar 3400 series open laser engraving system enables user to operate in tight quarters
---
Original Press Release:
The Ultimate Hot Light Power Tools for Your Jewelers Tool Box
Our All New FiberCube Compact 
New for 2019, LaserStar announces the FiberStar 3400 Series Open Laser Engraving System. Benefits include a space saving footprint and LaserStar's state-of-the-art operating software. The 3400 Series FiberCube Open Laser Engraving System enables the user to operate in tight quarters thanks to the space saving footprint. At only 9" wide, the 3400 Series Fibercube is ideal for those who are limited by space, but still want the features and power capabilities of our larger footprint LaserStar Laser Engraving Systems. Made in USA. Contact us today to learn more.
Our Industry Leading iWeld Jeweler's Edition
Specifically designed for jewelers, the iWeld Jewelers Edition is our best-selling laser welder in the jewelry market. Now featuring six models with power levels from 40 – 180 Joules at 60 and 80 Watts with a peak power of 11kW. Available in either a benchtop or pedestal platform, the iWeld fits neatly into any work environment and is the highest peak powered laser welding machine in its class. This machine welds SILVER along with other complex alloys.
The iWeld is also available with multiple optical viewing systems including our new EVS5 HD Display with high definition camera system.
Resize rings, retip prongs, and repair bezel settings
Assemble broken necklaces, bracelets and earrings
Repair costume jewelry, eyeglass frames and watches
Fill porosity and create made-to-order designs
Ideal for kiosks, studios, workshops, repair centers, pawn shops, discount outlets, optical and retail stores as well as large jewelry manufacturers
Financing available
 Contact LaserStar, the American-made laser company today.
More from Cleaning Products & Equipment