Lasers project guide lines on work surface.
Press Release Summary: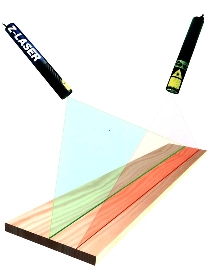 Z-Laser and Champion Series guide-line lights use Class 3A lasers. Five Z-Laser models are available to project sharp, unwavering lines in vivid green color, with Model Z40G able to project up to 100 ft. Company tests show that green is more easily seen than red is. Champion Series Lasers, with fully encapsulated power supply, project standard red line. Thermoelectric cooling circuit controls diode temperature. Five models are available.
---
Original Press Release:
Carter Puts A Whole New Light On Laser Projectors - Color It Green!

Grand Rapids, MI. - Carter Products has added a new color to their line of Laser Guide Line Lights. That decision has nothing to do with fashion. Tests show that green is more easily seen than red is. The high-powered green light in their ZG Laser is brighter, more intense, and has greater visibility. With Z-Laser technology, the new selection is available in a choice of five models each with different capabilities. The most powerful of these -the Z40G model- projects sharp, unwavering lines up to 100 feet in length in vivid green.

And there's more notable news Carterside. Their high-powered Champion Series Model Lasers aren't green but they're unique. They project a standard crisp red line using a rugged, fully encapsulated power supply and thermoelectric cooling circuit which controls the diode temperature for maximum reliability.

Carter Champion Lasers, which are available in five different models, offer the option of asymmetric distribution in the power output to compensate for mounting situations in which the laser is positioned at an angle with respect to the work surface. This means that the brightness of the line can be as intense at the end of the line as it is at the beginning.

All Carter Lasers are class 3A and a variety of mounting brackets are available to match just about any situation.

Carter has been a leading producer of woodworking machinery accessories since 1929. The company pioneered the advantages of guide line lights in the 1950s and introduced laser lights in the 70s. Besides Laser Guide Line Lights, the current product line includes Industrial Band Saw Guides, Wheels and Tires; Band Saw Guide Conversion Kits for most popular saws; the new 2-D Laser Projection Systems; Inspection Lights; the award-winning Flip-Pod® Vacuum Piece Part Holding System for CNC Routers; and other machine accessories such as the Quick Release(TM) Band Saw Tension Toggle and the Stabilizer(TM).

For further information on any of their extensive product line, contact:
Carter Products Company, Inc.
2871 Northridge Drive NW
Grand Rapids, MI
49544
(616) 647-3380
FAX: (616) 647-3387.
E-Mail: sales@carterproducts.com
or reach them on their Website at: www.carterproducts.com


More from Laboratory and Research Supplies and Equipment