Laserdyne Receives Order for Its New 430BD Fiber Laser System from Chaoyu Technology Co., Beijing, China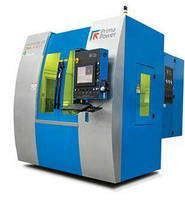 Champlin, Minnesota – Prima Power Laserdyne, the world leader in precision multi-axis laser machining systems, announced that It has finalized an order with Chaoyu Technology Co., Ltd. of Beijing China for its new six-axis 430BD fiber laser system.



Founded in 1957, Chaoyu Technology is a global leader in the design and manufacture of precision micro electrical components used in a wide range of industries from communication assemblies to electronic applications. The newly acquired LASERDYNE 430 will be used by Chaoyu Technology to precision weld, drill and cut 2D and 3D stainless steel micro electrical components. It will augment Chaoyu Technology's existing welding capabilities that include a 60W QCW fiber laser used for welding.



"By choosing the LASERDYNE 430BD system, Chaoyu Technology is making a breakthrough with its laser processing capabilities," reported Mr. Liu Chao, vice president. "The purchase is one of the most important capital investments in 2014 for Chaoyu Technology and it demonstrates the will of our company to grow especially in Asian markets."



"We are especially pleased with Chaoyu Technology's order for a LASERDYNE 430 series system," stated Mr. Terry VanderWert, President of Prima Power Laserdyne. "This is the first order for the new 430 system from a China-based customer in a market that has long been served with other Laserdyne multi-axis systems. Increasingly, manufacturers requiring precision components are finding it advantageous to invest in the best manufacturing technology available and that more often means LASERDYNE laser system technology. Laserdyne was one of the first system providers to offer fiber laser technology to our customers. We have found it initially very effective not only for precision cutting but also for welding and drilling."



"Chaoyu Technology will be utilizing the full array of LASERDYNE hardware and software features integrated with the latest high power fiber laser," Mr. VanderWert reported. "Highly efficient fiber lasers provide both operational advantages as well as key technical features associated with the small focused beam diameter, high beam quality, and responsiveness.



The LASERDYNE 430BD is a six-axis system designed for precision cutting, welding and drilling two and three dimensional components. The system operates at speeds up to 800 inch/min in the X, Y, and Z axes (0-20 m/min) with bi-directional accuracy of 0.0005 inch (12.7 micrometer). This accuracy is throughout the system's 585 x 408 x 508 mm work envelope, making it ideal for laser processing a broad range of Chaoyu Technology's components.



The LASERDYNE 430BD system has Laserdyne's latest and most powerful system controller, the S94P. The LASERDYNE 430BD includes the full complement of Laserdyne hardware / software features for integrated control of the laser, motion, and process sensors.



While the laser source is an important component of a 3D laser system, the full capability of laser processing is only realized when the laser, motion, and process sensors are fully integrated.



These features have been employed by system users to laser process complex electronic, medical, and turbine engine components in far shorter cycle times with superior quality than with other laser systems.



For more information about the products and services of Laserdyne, call for more information and a FREE brochure, 763-433-3700.



Email: LDS.SALES@primapower.com

Website: www.primapower.com

Fax: 763-433-3701



PRIMA POWER LASERDYNE

8600 109th Avenue North, #400

Champlin, Minnesota 55316.

More from Electrical Equipment & Systems