Laser System enables paperless picking.
Press Release Summary: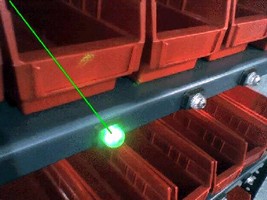 Laser-Pick(TM) utilizes high-intensity laser beams aimed at reflectors that visibly light up to direct pickers to pick/put locations. Green laser beam can service thousands of pick or put locations and can be utilized where pick-to-light cannot. Because laser beam guides picker, reflectors can be put anywhere without limitations of wiring runs. Supporting wireless, Ethernet, and RS-232 interfaces, Laser-Pick(TM) offers companion to voice recognition and RF Terminal based systems.
---
Original Press Release:
Picking at Laser Speed...More Efficient/Less Costly Paperless Picking
(Ixonia, WI) - IPTI, Inc., one the industry's leading innovators in pick-to-light technology, introduces Laser-Pick(TM), a revolutionary system that brings "Pick to Light" picking technology to any operation without the limitations and cost of standard pick-to-light systems. Rather than paying for expensive electronics at each pick/put location, Laser-Pick(TM) utilizes high intensity laser beams aimed at special reflectors that visibly light up like a light bulb to direct pickers to pick/put locations. The highly visible green laser beam can service thousands of pick or put locations and can be utilized where pick-to-light can't at a substantially lower cost per SKU for fast ROI. The system, an industry first, utilizes the proven IPTI pick-to-light hardware and software backbone. Because the laser beam guides the picker, reflectors can be put anywhere without the limitations of wiring runs. For operations that must deal with changes in their layouts this approach is ideal. As with all IPTI picking systems, Laser-Pick(TM) handles multiple interfaces including wireless, Ethernet and RS-232 to manage the pick/put process. Laser-Pick(TM) is an excellent companion to voice recognition and RF Terminal based systems, reducing picking errors common to those systems while increasing productivity at the same time. IPTI continually develops innovative pick to light products and systems for material handling operations world-wide. The company first introduced the Snap-In BUS concept; going on to engineer products that meet a number of customer needs while creating software customized to their businesses. IPTI products utilize open architecture and are therefore the choice of integrators across the country. Please send leads to: Darin Danelski President/Innovative Picking Technologies, Inc. W1236 Industrial Dr. Ixojnia, WI 53036 Tel: 262-567-6525 Email: [email protected]