Laser System detects broken tools.
Press Release Summary: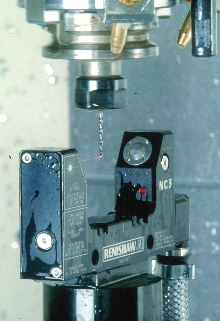 Non-contact NC3, for tool setting, measures tools as small as 0.2 mm diameter anywhere along laser beam. Drip rejection procedures offer protection from unwanted trigger signals. Continuous stream of air flows through Microhole(TM) apertures to protect system from all possible contaminants such as coolant, chips, and graphite. Protection is constant at any orientation and has no effect on ±0.1 µm repeatability. System measures only 135 x 26 x 77 mm.
---
Original Press Release:

New Laser Non-Contact Solution for Tool Setting and Broken Tool Detection


August 2002 - Renishaw is pleased to announce a major new addition to its growing family of non-contact laser systems. Measuring just 135 mm (length) x 26 mm (width) x 77 mm (height), the new NC3 offers tool setting and tool breakage detection features, meeting the increasing demand for probing on small machining centers and high speed cutting machines.

Following in the footsteps of Renishaw's highly successful NC1, the NC3 offers all the features of the original tool setting system with additional benefits of improved repeatability, reduction in air consumption and a new and improved rapid too! breakage detection cycle.

In addition to its built in broken tool detection feature, the NC3 offers high performance tool setting for precision measurement of tool length and diameter. Tools as small as 0.2 mm diameter can be measured anywhere along the laser beam. Set-up is also simple, as there is no focal point to identify. Thanks to its impressive ± 0.1 µm (2σ) repeatability and improved response time, accuracy is also increased over a range of tools.

Advanced techniques to reduce the effects of coolant drips and metal chips have been integrated as standard with the NC3. These "drip rejection" procedures offer protection from unwanted trigger signals, resulting in greater repeatability and more accurate results for system users.

The NC3 also features Renishaw's unique Microhole(TM) technology, first introduced on the NC1. A continuous stream of air flows through the Microhole(TM) apertures to protect the system from all possible contaminants such as coolant, chips and graphite. Even during measurement, this protection is constant at any orientation and has no effect on repeatability. Improved technology allows a smaller Microhole(TM), measuring just 0.5 mm, resulting in a reduced air consumption of only 6 liters per minute.

New software has allowed Renishaw to enhance its drip rejection features and incorporate a new high-speed tool breakage detection cycle. Dependent on installation configurations, existing NC1 users may also be able to upgrade their systems to benefit from some of these new features.

For more information on the NC3 non-contact laser toolsetter, contact Dave Bozich, Business Manager-Machine Tool Products, Renishaw Inc. Phone 847-286-9953. Fax 847-286-9974. Internet: www.renishaw.com


More from Software