Laser suits 193 nm optical lithography systems.
Press Release Summary: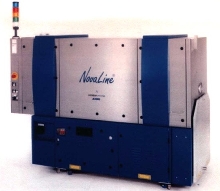 NovaLine® A4003 ultra-narrow-bandwidth laser is equipped with SOUL(TM) (Single Oscillator Ultra Line-narrowed). Line-narrowing optics combined with 4 kHz repetition rate yields output power of 20 W at spectral bandwidth of less than 0.30 pm, FWHM. Spectral purity is less than 0.75 pm for 95% energy content. Unit incorporates e-Diagnostics system to support predictive/preventative maintenance, proactive monitoring, and remote connectivity.
---
Original Press Release:

Lambda Physik Introduces a New 193 nm Lithography Excimer Laser - NovaLine® A4003 with SOUL(TM)


FORT LAUDERDALE, FLORIDA, July 17, 2002 - Lambda Physik introduces the NovaLine® A4003, an ultra-narrow-bandwidth laser for 193 nm optical lithography systems. Equipped with SOUL(TM) (Single Oscillator Ultra Line-narrowed), this laser combines an advanced single laser discharge unit with highly efficient line-narrowing optics. The SOUL of the laser enables superior optical performance without adding complexity or cost up to the 4 kHz maximum repetition rate. The result is the highest contrast imaging at a reduced CoO (Cost of Ownership) due to extended lifetime of the laser discharge unit. The A4003 is an extension of Lambda Physik's A4000 series, the industry's first 4 kHz, 193 nm laser.

The A4003's high precision line-narrowing optics used in combination with the high repetition rate of 4 kHz yields an output power of 20 W at an extremely narrow spectral bandwidth of less than 0.30 pm, FWHM. With the highest spectral purity of less than 0.75 pm for the 95% energy content, the A4003 meets the requirements of the next-generation 193nm systems design and the industry's highest numerical aperture (NA).

"After shipping multiple 4 kHz 193nm semi-line-narrowed high power laser systems in 2001 we will now start to deliver the model A4003 to the leading scanner manufacturers in Q4 of 2002", states Manfred Rahe Chief Technology Officer at Lambda Physik. He continues, "The NovaLine A4003 modular design takes advantage of new, high efficiency line-narrowing optics that enable superior spectral performance without adding complexity and cost."

The A4003 also incorporates Lambda Physik's e-Diagnostics system to support predictive / preventative maintenance, proactive monitoring, reduced MTTR (Mean Time to Repair), data collection for CIP (Continuous Improvement Program) and remote connectivity. With Lambda Physik's e-Diagnostic system the laser pool is automatically monitored and allows easy integration of the laser into the equipment control.

Visit us at Semicon West-Final Manufacturing, Booth #11316 and Semicon West-Wafer Processing, Booth #6562. Lambda Physik AG (German Neuer Markt: LPX) is a worldwide manufacturer of high-power, pulsed-UV and tunable laser sources for lithographic, industrial, scientific and medical applications.

For more information contact: Lynn Kobel Haddad, Marketing Communications Manager, Lambda Physik USA Inc., 3201 West Commercial Boulevard, Fort Lauderdale, FL 33309, Phone: (954) 486-1500, Fax: (954) 486-1501, Email: marcom@lambdaphysik.com, Web site: www.lambdaphysik.com


More from Optics & Photonics