Laser Regulator maintains beam-mode quality.
Press Release Summary: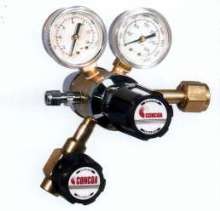 Incorporating M
2
technology, Series 601 eliminates atmospheric contamination during resonator gas cylinder exchange. Smooth flow paths do away with dead space as potential entrapment sites for moisture or hydrocarbons, facilitating stable emission. With operating temperature of -40 to 140°F, series offers PTFE seat for 3,000 psig or Kel-F® seat for 4,500 psig. Stable flow and pressure control is maintained via 2 stages of regulation.
---
Original Press Release:

New Laser Regulator Maintains Beam-Mode Quality, Maximizes Resonator Efficiencies, Lowers Maintenance Costs


September 1, 2004 - Virginia Beach, VA - A new easy-to-use laser gas delivery system regulator designed to eliminate atmospheric contamination during resonator gas cylinder exchange has been introduced by CONCOA.

The 601 Series incorporates new M2 technology to minimize atmospheric contamination caused by deposited contaminates that reduce laser power output and distort beam-mode quality. Stable emission and higher resonator efficiencies are achievable because of the low internal volume construction and smooth flow paths that eliminate dead space as potential entrapment sites for moisture or hydrocarbons. The 601 Series is ideal for materials processing applications utilizing laser pure/mixed resonator gases, laser purging gases, and maintenance gases from high-pressure supply.

The 601 Series offers an optional integral purge assembly and an internal check valve that guarantee gas purity and lower maintenance costs. With varied options to meet all laser OEM requirements, the 601 Series delivery system's low-diffusion design incorporates stainless steel diaphragms and a 1x10-8 He cc/sec leak rate.

The series offers a PTFE [for 3,000 PSIG (208 BAR) inlet or Kel-F® seat [for 4,500 SIG (310 BAR) inlet. Pressure gauges have a brass case and socket and a bronze Bourdon tube. Operating temperature range is -40 to 140°F (-40 to 60°C). Stable flow and pressure control is maintained via two stages of regulation. Various inlet and outlet connections are available, and basic regulator weight is 4.8 lbs. (2.16 kg).

Certified ISO 9001, CONCOA manufactures a complete quality line of gas pressure and flow control equipment and distribution systems for worldwide medical, industrial, laser and specialty gas applications as well as distribution equipment for laser materials processing. Series 601 is among the company's pressure control products registered in all Canadian provinces (CRN OH 5216.5C). For information or a catalog, call 1-800-225-0473 (U.S. or Canada), 31-30-2672-303 (Europe), 603-8739-8828 (Pacific), or visit the CONCOA Web site at www.concoa.com.
###

More from Material Processing