Laser Mechanisms' New FiberCut Processing Head Exceeds Expectations at LASER 2009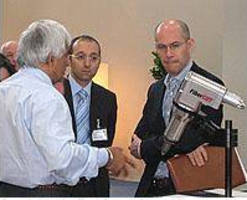 Laser Mechanisms recently introduced their new FiberCut processing head to enthusiastic crowds at the LASER World of PHOTONICS trade fair in Munich, Germany (June 15-18, 2009).

While show organizers reported a slight downturn in the number of show attendees from the last LASER event held in 2007, Laser Mechanisms experienced a steady flow of activity - with many visitors wanting to discuss how to integrate a FiberCut processing head with their 3-dimensional robotic cutting application. Visitors indicated that the compact size of FiberCut along with its low moving mass were key design features that peaked their interest in the product.

"The fact that FiberCut can gain such tight access to parts because all connections enter at a right angle, was a clear hit with customers," said Dr. Arvi Ramaswami, Managing Director of Laser Mech Europe. "Other features that resonated with customers were its slim, snagless packaging, its ability to auto calibrate and its insensitivity to cutting plasma," added Dr. Ramaswami.