Laser Material Processing System utilizes hybrid technology.
Press Release Summary: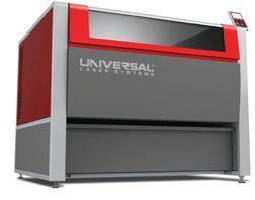 Suitable for cutting, marking, and engraving of both organic and inorganic materials, XLS10MWH Multiwave Hybrid™ System combines laser energy from CO2 lasers of 9.3 or 10.6 microns and fiber laser of 1.06 microns into simultaneous delivery of single beam. Control of lasers individually or simultaneously provides infinite laser energy combinations for development of laser material processes. System supports processing of aerospace, automotive, electronic, and other engineered materials.
---
Original Press Release:

Universal Laser Systems Announces XLS10MWH with Patent Pending Multiwave Hybrid(TM) Technology for Advanced Laser Material Processing



Scottsdale, AZ -- Universal Laser Systems announces the release of the XLS10MWH Multiwave Hybrid™ laser material processing platform as the newest member of the XLS product family. The XLS10MWH platform combines the laser energy from CO2 lasers of 9.3 or 10.6 microns and a fiber laser of 1.06 microns into the simultaneous delivery of a single beam-an industry first. By allowing laser configurations of multiple wavelengths, this innovative technology opens up new possibilities for laser material processing.



The XLS10MWH offers the greatest range of material and laser process capabilities, including cutting, marking and engraving both organic and inorganic materials. The control of lasers individually or simultaneously provides infinite laser energy combinations for the development of new laser material processes, offering advantages in advanced material processing of aerospace, automotive, electronic and other engineered materials, including reinforced polymers, composites, nanocomposites and even hybrid materials.



To learn more about the XLS10MWH and access the Multiwave Hybrid™ Technology for Advanced Laser Material Processing whitepaper, go to www.ulsinc.com.  To learn more about processing specific materials with the XLS10MWH, send your inquiry to moreinfo@ulsinc.com.



About the XLS Product Family

The XLS product family consists of modules that work together like building blocks to create the perfect solution to meet present and future business needs. This modular design architecture allows for the customized selection from modules that include a feature-rich, highly configurable platform, lasers, focusing optics, workflow and process optimization, safety and facility, and software.



About Universal Laser Systems, Inc.

For over 25 years Universal Laser Systems has been gaining extensive experience with laser-material interactions. Using this experience, Universal Laser Systems develops customizable DLMP™ (Digital Laser Material Processing) solutions to deliver the highest capability, flexibility, and performance lasers and laser system solutions for advanced material processing.



Contact:

James Rabideau

jrabideau@ulsinc.com

480-483-1214 ext.214

More from Mechanical Power Transmission