Laser Marking System is suited for all-purpose marking.
Press Release Summary: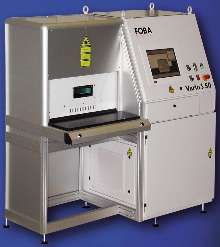 With modular design and 68 x 35 x 63 in. footprint, turnkey, Class 1 Vario comes equipped with application-appropriate, solid-state laser. Standard marking field of 120 mm² can be enlarged to 290 mm² via optional, interchangeable lens. Unit achieves line widths as fine as 50 microns and character height as small as 250 microns. Powered by FOBAGRAF software, system has marking speeds over 5,000 mm/sec or 500 characters/sec.
---
Original Press Release:

New Breed of FOBA Turnkey Laser Marking Systems Now Available From Virtek


----- The FOBA Vario range of turnkey configurations increases production efficiency -----

WATERLOO, ON, February 12, 2004 - Virtek, a leading developer of precision, laser-based solutions for industrial applications, brings to North America a new breed of FOBA laser marking system. Launched in Germany in 2002, the system has proven ideal for all-purpose marking and serialization for the automotive and electronics industries as well as plastics decorating and lacquer removal (day/night marking).

Vario is a versatile, turnkey, Class 1 laser marking system that is equally suitable for processing high product mixes in fixtures and trays or large production runs. The Vario's robust, modular design and compact footprint - 68 x 35 x 63 inches or 172 x 88 x 159cm (length x width x height) - mean it can be customized for almost any manufacturing environment and marking application.

Vario is equipped with a choice of high quality solid-state lasers manufactured in Virtek's FOBA Germany facility. The customer's application dictates the selection of the appropriate laser, which means Vario can handle everything from the simplest, surface-marking application to the high-power engraving of metals. A marking field of 120mm x 120mm is standard and can be enlarged to 290mm x 290mm with the use of an optional, interchangeable lens. Vario achieves line widths as fine as 50 microns (0.05mm) and character height as small as 250 microns (0.25mm).

Jose Downes, Director, Global Laser Marking and Engraving Products, comments, "Vario is a beautifully simple system that integrates high performance options for customers' part handling requirements." The system is available as a stand-alone unit or for integration into automated production lines. In addition to standard part height adjustment the Vario can be configured for shop-floor deployment with options for front- or side-loading modules, fixed worktable or rotary table with turning bulkhead wall. Virtek's FOBA engineering team also develops customized part handling solutions for optimal processing efficiency.

Customers can access their data through a wide range of options - serial, digital I/O, Ethernet and USB connections are standard. These communication options provide the widest range of capability for working with the end-user's data to present an intuitive view of the process.

Vario is powered by full-featured FOBAGRAF software, operating in a Microsoft Windows® 2000 interface. The system allows users to manipulate graphics and supports the import of all typical 2D graphics file formats, including dxf, ai, plt, tif and others. Easy-to-set, application-specific laser parameters mean manufacturers can work with all kinds of metals, plastics, lacquers and paints.

BETTER QUALITY MARKS, SHORTER MARKING TIMES

Excellent beam quality and a special, integrated hatching process optimize marking clarity and consistency and increase marking speeds.

These FOBA-engineered systems also have advanced beam steering ability for best resolution and repeatability.

Real-time hardware control through a CompactPCI, pushes marking speeds over 5,000mm/second, or 500 characters/second (speed dependent on specific application).

INDUSTRIAL PACKAGE

The ergonomic design of the Class 1 Vario workstation enables maximum efficiency and productivity. The rotary table and quick-change tooling result in short cycle times. Product handling and positioning are made easy with the system's program-controlled Z-axis. The optional Z-axis extension enlarges the usable marking area and permits the marking of oversize components. Vario's air filtration system guarantees the safe removal of vaporized plastic, metal or paint particles for an environmentally friendly manufacturing process. The environmental enclosure rating of the Vario is an industry-standard IP54.

ABOUT VIRTEK

Virtek is a leading provider of precision laser-based templating, inspection, marking and engraving solutions for industrial material processing. The majority of the Company's sales are in the United States and Europe. Virtek maintains offices in Waterloo, Canada; Lee's Summit, USA; Lüdenscheid and Nürnberg, Germany and Ebina City, Japan.

FOBA's instruments include OEM marking systems for integration into machines and manufacturing lines, turnkey laser marking and engraving units and deep engraving systems.

Please visit www.virtek.ca < www.virtek.ca/ > and www.foba.de < www.foba.de/ > for more information.

FOR MORE INFORMATION, PLEASE CONTACT:

Jose Downes - Director, Global Laser Marking and Engraving Products

VIRTEK

Tel: 617-283-4364

Email: jose.downes@virtek.ca < mailto:jose.downes@virtek.ca >

Ginny Bartosek - Marketing Communications VIRTEK

785 Bridge Street, Waterloo, ON N2V 2K1 Canada

Tel: 519-746-7190, ext. 251

Email: ginny.bartosek@virtek.ca

More from Machinery & Machining Tools