Laser Markable Materials are compatible with IR laser marking systems.
Press Release Summary: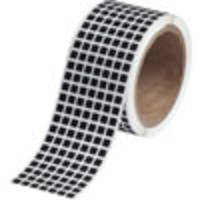 Available in B-730, B-731 and B-421 variants, Laser Markable Materials offer high resolution print on small sized labels. Suitable for printed circuit board and electronic component applications, unit can survive at high temperatures. Product can withstand harsh washdown cycles.
---
Original Press Release:
Brady Launches New Laser Markable Material
New laser markable materials expand line of electrical component & printed circuit board labels
Brady (NYSE:BRC), a global leader in industrial and safety printing systems and solutions, announced today the launch of B-730, B-731 and B-421 laser markable materials. The new materials complement the existing line of Ultratemp® labels from Brady that are specifically designed for printed circuit board and electronic component applications.
The new laser markable materials provide another identification solution for the growing electronics market," said Andrew Schmitt, regional product manager for Brady. "These new materials are engineered to withstand the most severe printed circuit board manufacturing processes with print resolutions limited only by your laser beam quality."
Laser markable materials provide a high resolution print on the small sized labels that are typically used on printed circuit boards (PCB) and are able to withstand harsh washdown cycles. The materials can also survive high temperatures and are compatible with most IR laser marking systems. The labels are fully customizable to meet the customer's requirements.
Contact the Brady Custom Quoting Team at BradyUSAQuotes@bradycorp.com or call 1-888-272-3946 to receive a custom quote and place an order.
For More Information
For Brady's complete product offering, visit BradyID.com.
About Brady Corporation:
Brady Corporation is an international manufacturer and marketer of complete solutions that identify and protect people, products and places. Brady's products help customers increase safety, security, productivity and performance and include high-performance labels, signs, safety devices, printing systems and software. Founded in 1914, the Company has a diverse customer base in electronics, telecommunications, manufacturing, electrical, construction, medical, aerospace and a variety of other industries. Brady is headquartered in Milwaukee, Wisconsin and as of July 31, 2016, employed approximately 6,400 people in its worldwide businesses. Brady's fiscal 2016 sales were approximately $1.12 billion. Brady stock trades on the New York Stock Exchange under the symbol BRC. More information is available on the Internet at bradycorp.com.
Contact:
Jackie Hahn
(414) 438-7024
Andrew Schmitt
 (414) 358-4509
Brady Corporation
PO Box 249, Milwaukee
WI 53201 United States
More from Machinery & Machining Tools