Laser Line Scanner adapts to almost any CMM.
Press Release Summary: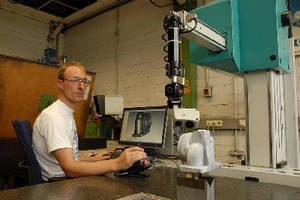 Measuring 100 x 68 x 58 mm, Shapetracer is used on CMM with stable support table and is suited for non-contact reverse engineering and inspection. System can scan up to 48,000 points/sec with measurement accuracy better than 20 µm. With working clearance of 40 mm, scan width of 35 mm, and scan depth of 60 mm, Shapetracer can be connected to Renishaw PH6M or PH10M probe head via Renishaw Autojoint connection. In conjunction with PH10M rotary swivel head, 5-axis measurement is available.
---
Original Press Release:

Wenzel Launches High-Value, High-Accuracy CMM-Based Laser Scanner



The Shapetracer laser line scanner system with its integrated programming and post-processing software represents the best value solution for high-quality, non-contact reverse engineering and inspection.

The requirements for quality assurance have increased with 3D technologies. Previously all major dimensions could be taken from a 2D drawing for tactile measurement which is no longer the case today. Modern 3D drawings include little in the way of explicit dimensions. The curves of the free-form surfaces are almost impossible to verify, using traditional tactile measurement techniques.

Wenzel is providing new advanced 3D measuring technology to solve these measuring issues and their new "Shapetracer" laser line scanner is quickly becoming a preferred solution. The Wenzel Shapetracer is a high-precision line scanner developed together with the Pointmaster evaluation software from Wenzel Knotenpunkt. Shapetracer is an extremely compact scanner that can be connected to the Renishaw PH6M or PH10M probe head via the Renishaw Autojoint connection and, consequently, can be adapted to almost every coordinate measuring machine. In conjunction with the PH10M rotary swivel head, five axis measurement is available.

From the outset, the Wenzel development team decided that the laser line scanner should be used on a coordinate measuring machine with a stable support table, and not just on a mobile measuring arm. Higher production applications require automatic measurement of several workpieces which is only possible on a large stationary measuring machine. In addition, if probe and sensor changing is to be automated, the Shapetracer can be cabled via the Renishaw Multiwire connection so its storage together with other measurement heads is easily accommodated.

In operation, scanning of the workpiece, where the operator is supported by the Pointmaster kinematics module and the software, takes over the full command of the measuring process. The measuring machine can be completely and virtually mapped so that simulations of the measuring process are also possible. A point cloud is generated from the scan data and, from that a polygon model with homogenous surface is computed (triangulation). Finally the polygon model is converted into a CAD model in IGES format. Quality technicians can receive the CAD data, also in IGES format, from the design department. Both datasets are aligned and compared with the software. Pointmaster highlights the differences between the two models in different colors where the variances in dimension can be discretionally selected and marked by flags. All dimensions are listed and contrasted in the evaluation protocol. This applies particularly to components with complex inner workings. These parts must be dissected in order to simulate both the external and internal contours.

With the Pointmaster software it is no problem to construct a model from the component scanned in different directions. The system provides a series of functions, both for aligning the components and for manufacturing homogeneous contour transitions in order to remove any cut surfaces and to add consecutively scanned areas. The assembly of the contours does not rely on mathematical tricks, but always uses real data so a highly precise scanner is a prerequisite. After the CAD model has been generated the finest surface structures become visible. Ingrained lettering, for example, appears distinctly and clearly legible on the display screen.

"Shapetracer provides a measurement accuracy of better than 20 µm," explains Giles Gaskell, sales manager for 3D imaging products for Wenzel/Xspect Solutions. This value is not a theoretical specification based on specified accepted boundary conditions. This value was proven metrological with the aid of verified calibration figures. It is essential to be aware that, apart from the camera resolution, the accuracy of a laser sensor is primarily dependent on the depth of scanning. The greater the scanning depth, the more inaccurate the result. The Shapetracer was therefore optimized for a scanning depth of 60 mm in order to obtain the specified accuracy." Overview of the

Shapetracer system include:

Dimensions: 100 x 68 x 58 mm

Working clearance: 40 mm

Scan width: 35 mm

Scan depth: 60 mm

Scan capacity: 48,000 points/sec

Measurement accuracy: better than 20 µm

Giles adds, "Because of its compact design, the Shapetracer is ideal for mounting in sensor changer systems. Consequently any conventional measurement machine can easily be upgraded to become a multi-sensor machine.

WENZEL Group GmbH & Co. KG is one of the leading manufacturers of coordinate measuring machines. Wenzel/Xspect Solutions, Inc. headquartered in Wixom, Michigan, and is a wholly owned subsidiary of Wenzel Group GmbH of Germany. Wenzel/Xspect Solutions is the Number 3 supplier of both traditional CMMs and GMM gear measuring machines to the North American metrology market. Wenzel also provides a variety of unique 3D imaging technologies including the ScanTec(TM) non-contact white light optical measuring system, the exaCT(TM) integrated computed tomography workstation, MobileScan3D® mobile CNC Measurement System and the Shapetracer(TM) 3D laser line scanner. Wenzel/Xspect Solutions also provides OpenDMIS(TM), the metrology industry's most complete open architecture metrology software. The main customers are in the automotive and aerospace industries, mechanical engineering, electrical motor manufacturing and sub-contractors to these sectors. With subsidiaries in Switzerland, France, United Kingdom, Netherlands, China, USA, Singapore and India WENZEL is employing 600 people worldwide.


More from Software