Laser Engraver takes 1-3 min to etch image into plates.
Press Release Summary: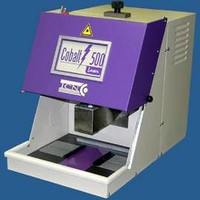 Using 10 W sealed CO2 laser and Imperial Printing Plates, Cobalt 500 produces high-resolution pad printing plates directly from computer without use of film positives. Plate making and engraving system has 105 x 105 mm marking area and 400 x 400 mm operating area and offers adjustable power, frequency, and speed settings. Along with self-centering plate registration system, machine features programmable halftones, total depth control, and scan head vertical micro-adjust system.
---
Original Press Release:

COBALT 500 Laser Engraver System from INKCUPS NOW Corporation



Inkcups Now introduces the revolutionary Cobalt 500 plate making and engraving system - a lower cost alternative computer to plate etching system to the highly successful Cobalt 1000 laser system. The Cobalt 500 laser system uses CO2 laser technology and specially designed Imperial Printing Plates (Patent Pending) to produce high resolution pad printing plates directly from the computer, without the use of film positives.
The results of the Cobalt 500 system are outstanding. The system is extremely fast (it takes approximately 1 minute to etch an image into the Imperial Plates) and has dramatically improved print quality over traditional photosensitive polymer plates. The speed of etching coupled with superior image quality and programmable halftones make the Cobalt 500 Laser and Imperial Plate the perfect match. Together, they form the most productive and cost effective marriage of products introduced into the pad printing field in the last decade.

Laser Engraver System Specifications
Features and Benefits of Computer to Plate Printing:

10 watt sealed CO2
Self-centering plate registration system
Scan head vertical micro-adjust system
105mm x 105mm marking area
Red aiming diode
400mm x 400mm operating area
Cobalt Software package - handles Adobe Illustrator and .dxf files
Adjustable power, frequency and speed settings
Integrated electro-mechanical safety shutter
Current: 10 Amps Voltage: 110V
Machine dimensions: 19"W x 31"L x 27"H
Shipping weight: 145 lbs

Process Improvements
Improved print quality: laser plates are 1st generation so there is no loss of resolution due to film
Etched Imperial laser plates (patent pending) are 100% repeatable
Improved ink lay down - laser engraved plates have a straight walled etching and more precise inkwell profile than polymer plates

Direct Cost Savings
Eliminate film costs
Eliminate chemical costs: image-setter fixer, developer, and plate toner cartridges
Eliminate maintenance contracts for image-setter and processor
Eliminate hazardous waste stream and supply shipping costs

Time and Efficiency Savings
Reduce plate making time: 2-3 minutes for an Imperial laser plate vs. 15 minutes for a polymer plate
Eliminate bad plates - total depth control gives consistent plates every time
Lower machine downtime: more reliable plates allow pad printing machines to run with fewer interruptions

Inkcups Now Corp.
www.inkcups.com

20 Locust St. Suite 104
Danvers, MA 01923
USA
Phone: 978-646-8980

Contact persons for the customers: Mike Bissel, Sales Director; Ben Adner, President info@inkcupsnow.com

More from Fluid & Gas Flow Equipment