Laser Emitter provides 5 different beam shapes.
Press Release Summary: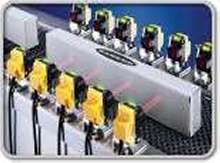 QS18LE Series laser emitters are DC powered laser pointers as well as emitter half of opposed mode sensor pair. As a pointer, QS18LE provides spot, circle, vertical line, horizontal line, and cross for precise product or target location or vision system illumination. When paired with photoelectric receiver, emitter provides small object detection and position control as opposed mode sensor. Unit is rated IEC IP67 and NEMA 6, and operates from -10 to +50°C.
---
Original Press Release:

Self-Contained Miniature Laser Sensor Features Five Beam Shapes for Accurate Alignment and Visual Object Marking



Minneapolis, MN ­November 19, 2002­ Banner Engineering Corp. has introduced new WORLD-BEAM QS18LE Series laser emitters designed for use as a DC powered "laser pointer" in an industrial housing as well as the emitter half of an opposed mode sensor pair. As a pointer, the QS18LE provides five different beam shapes including small spot, circle, vertical line, horizontal line and cross for applications requiring precise product or target location. These applications include pointing at a punched hole or missing hole, as part of a sensor array of "pick-to-lights" illuminating a component selection work sequence, and for material cut-off indication. It can also be used for simple vision system illumination.

Paired with a Banner photoelectric receiver, the QS18LE is a cost effective opposed mode sensing solution. The sensors' narrow effective beam provides small object detection and accurate position control. The QS18LE's output is modulated to give the laser long life and keep the power band it emits accurate. High-speed modulation of the laser creates a sensor emitter that various Banner receivers "recognize" as a modulated emitter. The visible beam of the QS18LE is enabled by applying 0V dc to the unit's laser control input wire and a beam extinguish function is enabled when +10 to 30V dc is applied. This is especially important when mounted on a moving location to turn off the visible laser during parts of the operation where there would be contact with objects other than the desired target.

Integral circuitry protects the 10 to 30V dc QS18LE sensors against reverse polarity, over voltage and transient voltages. There is a 1.5 second delay at power-up and all models include a third wire feature for extinguishing the laser light when +10 to 30V dc voltage is applied.

The sensors feature a durable polycarbonate/ABS alloy housing. They are rated IEC IP67 and NEMA 6, and operate in temperatures from -10° C to +50° C (+14° F to +122° F). Users can choose models with a PVC-jacketed 2 m (6.5') attached cable, or 4- pin Euro-style quick-disconnect fitting. 3 mm mounting hardware is included. Pricing starts at $58.00.

Banner Engineering is the world's leading manufacturer of electronic machine guarding systems, photoelectric and ultrasonic sensors, fiber optic assemblies, and precision measurement systems. For further information, contact: Banner Engineering Corp., 9714 Tenth Avenue North, Minneapolis, MN 55441. Ph: 888-373-6767 (Toll-free, North America) or 001-763-544-3164 (International). Fax: 763-544-3213. email: sensors@bannerengineering.com

e-commerce: www.buybanneronline.comWeb:www.bannerengineering.com

More from Explosives, Armaments, and Weaponry