Laser Edge Deletion System targets solar panel manufacturers.
Press Release Summary: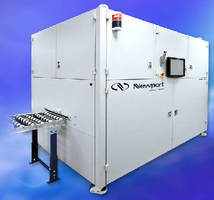 SolaryX(TM) Edge uses pulsed lasers to remove all coatings - amorphous silicon (a-Si), cadmium-telluride (CdTe), copper-indium-diselenide (CIS), copper-indium-gallium-diselenide (CIGS) - around perimeter of thin-film solar panels. Featuring optical design, edge laser processing system is designed for fast takt times and reliability in 24/7 industrial thin-film solar panel manufacturing environments.
---
Original Press Release:

Newport Announces the SolaryX(TM) Edge - A Laser Edge Deletion System for Solar Panel Manufacturers



Irvine, CA - March 2, 2009 - Newport Corporation, a worldwide leader in laser and photonic solutions, introduces its state-of-the-art SolaryX (tm) Edge, a laser edge deletion system for thin-film solar panel manufacturing. The new edge laser processing system is an advanced solution for effective and efficient removal of all coatings on thin-film solar panels. Designed for fast takt times, low cost of ownership, and maximum reliability in 24/7 industrial environments, this rugged system will premier in Munich, Germany, at Newport's booth #H31, Hall C2, during the Photon Technology Show March 4-6, 2009.

The SolaryX Edge uses high power, pulsed lasers to remove amorphous silicon (a-Si), cadmium-telluride (CdTe), copper-indium-diselenide (CIS), or copper-indium-gallium-diselenide (CIGS) coatings around the perimeter of thin-film solar panels. The unique optical design makes it a lower cost, higher throughput product while occupying a significantly smaller footprint than competing laser-based systems. It also eliminates consumables which are required for other methods, such as sandblasting, making it ideal for the global thin-film solar panel manufacturing market.

As the latest addition to Newport's broad portfolio of photovoltaic manufacturing and test solutions, it joins the SolaryX family of laser scribe tools, lasers for thin-film scribing and patterning, automated PV I-V test stations, and solar simulators. SolaryX Edge systems have shipped to customers in the U.S. and are currently operational in plants manufacturing thin-film solar panels.

"Our system delivers unmatched effectiveness when compared to competitors' laser-based systems or sand blasting technologies," says Ron Hartmayer, Director of Marketing, Photovoltaic Systems at Newport. He adds, "The SolaryX Edge provides superior performance, combining extremely fast coating removal rates for takt times down to 22 seconds, high reliability, and significantly lower cost of ownership than other solutions."

About Newport Corporation

Newport Corporation is a leading global supplier of advanced-technology products and systems to customers in the scientific research, microelectronics manufacturing, aerospace and defense/security, life and health sciences and precision industrial manufacturing markets. Newport's innovative solutions leverage its expertise in high-power semiconductor, solid-state and ultrafast lasers, photonics instrumentation, sub-micron positioning systems, vibration isolation, optical subsystems and precision automation to enhance the capabilities and productivity of its customers' manufacturing, engineering and research applications. Newport is part of the Standard & Poor's SmallCap 600 Index and the Russell Microcap Index.

Newport Corporation
1791 Deere Avenue
Irvine, CA 92606
Tel 949-863-3144
Fax 949-253-1800
www.newport.com