Vision and Imaging Sensors / Detectors
Laser Displacement Sensors offer teach-in feature.
Press Release Summary: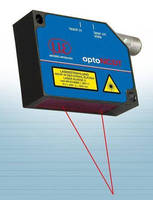 OptoNCDT 1402 sensors have teach-in function that lets user limit measuring range to suit application requirements while maintaining full 4-20 mA, 1-5 V, RS422 output. Integral controller compensates in real time for difficult-to-measure surfaces, enabling accurate measurement of object parameters including thickness, roundness, position, deflection, tilt, displacement, and vibration. Measuring rate is 1.5 kHz, and series comprises 7 sensors with measuring ranges from 5-250 mm.
---
Original Press Release:

Teach-in Feature Provides Laser Displacement Sensor with Maximum Flexibility



Precision sensor specialist Micro-Epsilon has launched a new range of optoelectronic displacement sensors that offers new features and an unmatched price-performance ratio.

The new optoNCDT 1402 laser sensor is the next-generation of sensor in Micro-Epsilon's optoNCDT 1400 series, replacing the optoNCDT 1401 sensor. The 1402 offers enhanced performance and additional flexibility in terms of adjusting the measuring range whilst maintaining the full output span.

The sensor's new 'Teach-In' functionality enables the user to limit the measuring range of the sensor to suit different measurement tasks. For example, the user can reduce the measuring range of a 200mm sensor down to 165mm for example, in order to suit the application requirements. In doing this, the user still benefits from a full output span (4-20mA, 1-5V, RS422), which maximises the sensitivity of the sensor. With previous sensors in the 1400 range, the user would get a reduced output if the measuring range were decreased in this way.

The 1402 has an integral controller that automatically compensates in real time for difficult-to-measure surfaces such as shiny metal, gloss paint finishes and black rubber. This real time surface compensation (RTSC) feature enables OEMs and machine builders to more accurately measure a variety of object parameters, including thickness, roundness, position, deflection, tilt, displacement and vibration. The 1402 can also be used for on and offline quality inspection, dynamic part profiling and part recognition.

Chris Jones, Managing Director at Micro-Epsilon (UK) Ltd comments: "The 1402 is unique in terms of offering the customer a high performance, cost effective laser displacement sensor that is able to compensate for changing surfaces in real time and has the flexibility to allow the user to adjust the measuring range to suit their individual task. An increased measuring rate of 1.5kHz also means the sensor can easily cope with very fast, inline production, assembly or quality inspection tasks."

The integral controller and compact design of the 1402 enables rapid mounting and installation, even in restricted spaces on machines or next to production lines. With no separate controller to mount, machine builders and systems integrators will reduce associated wiring costs and free up space in their control cabinets.

The 1402 is also equipped with a swivelling cable connector, which enables the direction of the cable output to be changed to suit the application. The sensor offers an analogue current/voltage output and an RS422 digital interface.

The 1402 series comprises seven sensors with measuring ranges from 5mm up to 250mm.

For more information on Micro-Epsilon's range of optoelectronic displacement sensors, please call the sales department on 0151 355 6070 or email: info@micro-epsilon.co.uk

Note to Editors: Micro-Epsilon (www.micro-epsilon.co.uk) is a major global manufacturer of sensors, headquartered in Germany. The company's range of displacement sensors measure everything from to distance, position, vibration, dimensions and thickness, using both contact and non-contact measurement techniques. These techniques include 1D, 2D and even 3D laser-optical sensors and systems, eddy-current, capacitive, LVDT & inductive, potentiometric and draw-wire principles. Additionally Micro Epsilon has developed its own range of non-contact infrared temperature sensors that can measure virtually any target temperature from -40 to +3,300°C.

With more than 30 years' experience in the industry, Micro-Epsilon isn't just a sensor manufacturer. The company is highly innovative and understands the importance of providing complete solutions and support services for its customers. The firm is renowned for its expertise in consulting, development and application of industrial sensors to complex, customer-specific solutions for measurement, inspection and automation. The focus is on selling technical advantage to its customers.

Reader Enquiries/Advertising:

Chris Jones

Managing Director

Micro-Epsilon UK Ltd

Unit 1

Pioneer Business Park

North Road

Ellesmere Port

Cheshire CH65 1AD

Tel: +44 (0) 151 355 6070

Fax: +44(0) 151 355 6075

Mobile: 07789 484503

Email: chris.jones@micro-epsilon.co.uk

More from Communication Systems & Equipment