Laser Diode Module targets high-end OEM applications.
Press Release Summary: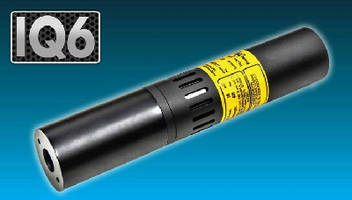 Available in wavelengths from 390–2320 nm, Model IQ6 features spectral width of less than 5 MHz and coherence lengths over 15 m. Unit provides wavelength and output stability as well as optimized optical quality. Offered with digital or analog modulations, module is suitable for holography, interferometry, bioanalysis, fluorescence, and Raman spectroscopy.
---
Original Press Release:

Power Technology, Inc. Provides Instrument Quality Performance for High-End OEM Applications



LITTLE ROCK, AR — Power Technology, Inc., a leader in the Photonics Industry for over 40 years, announced today that it is introducing a new instrument quality laser diode module for high-end OEM applications. The IQ6 laser is specifically designed for applications that require narrow spectral widths and long coherence lengths.



"There has been a great deal of demand for an instrument quality laser of this caliber within the OEM market," stated Walter Burgess, Vice President of Sales & Engineering at Power Technology. "The IQ6 is the solution to that need. It provides long coherence lengths and narrow spectral widths that will significantly benefit our holography and Raman spectroscopy customers."



The IQ6 by Power Technology offers wavelengths from 390-2320nm, features a spectral width of < 5MHz and provides coherence lengths of over 15 meters. The versatility of this module makes it ideal for a range of uses including holography, interferometry, bioanalysis, fluorescence and Raman spectroscopy. The IQ6 is available with digital or analog modulations.



This is the latest innovation in a series of instrument quality lasers designed and manufactured by Power Technology. The IQ series provides wavelength and output stability, superior optical quality and numerous other mechanical and optical improvements over previous generation instrument quality lasers. In addition, IQ lasers can operate at wide temperature ranges.



For additional information on the IQ6 Laser, contact our professional Sales Engineers today at sales@powertechnology.com or via phone at (501) 407-0712.



Power Technology, Inc., established in 1969, is a leading designer and manufacturer of laser diode products for OEM analytical, biomedical, industrial, semiconductor inspection, defense & security and machine vision applications.



For more information about Power Technology, visit the company's website at http://www.powertechnology.com.



Contact:

Adam Whitefield, Marketing Manager

Power Technology

awhitefield@powertechnology.com

Related