Laser Dichroic Filters operate at 45 degrees.
Press Release Summary: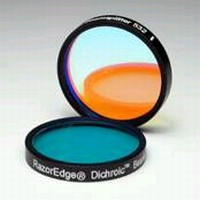 Made with Ion Beam Sputtering, RazorEdge® Dichroic(TM) Beamsplitters reflect standard laser wavelength incident at 45° while passing broad band of longer Raman-shifted wavelengths. Units guarantee transition from laser line to passband in less than 1% of laser wavelength, regardless of polarization. With dense, hard dielectric optical coating, filters offer high damage threshold and permanent performance, even in harsh, humid environments.
---
Original Press Release:

Semrock® Introduces Stunning New Family of Laser Dichroic Filters for Use at 45 degrees



New filter sets provide unprecedented laser filtering performance at 45 degrees.

ROCHESTER, N.Y., May 14, 2007 - Semrock, Inc., the leading manufacturer of high-performance optical filters for the Biotech and Analytical Instrumentation markets, today announced another innovative family of high-performance filter products made with advanced Ion Beam Sputtering. The new RazorEdge® Dichroic(TM) beamsplitters, which reflect a standard laser wavelength incident at 45 degrees while efficiently passing a broad band of the longer Raman-shifted wavelengths, boast an ultrasteep transition from reflection to transmission far superior to anything else on the open market. The guaranteed transition from laser line to passband in <1% of the laser wavelength (regardless of polarization) makes these new filters a perfect match to Semrock's patented and popular normal-incidence RazorEdge ultrasteep long-wave-pass filters.

These new high performance RazorEdge 45-degree dichroic filters complement Semrock's unique family of 45-degree filters, including versions of its StopLine® notch filters, which reflect discrete laser lines incident at 45 degrees while passing both shorter and longer wavelengths, and Semrock's equally unique family of MaxLine® laser-line filters which pass discrete laser lines incident at 45 degrees while reflecting both shorter and longer wavelengths.

"The popularity of our standard normal incidence RazorEdge filters has frequently prompted calls for a complementary 45-degree version, and we have responded with a state-of-the-art solution," said Dr. Turan Erdogan, CTO of Semrock. "Achieving this level of performance at 45 degrees is particularly difficult because of polarization splitting, but was realized as a result of our recent engineering advances. At Semrock we never stop innovating."

These new dichroic products are available for standard laser wavelengths and generally ship from stock. All of Semrock's filters are made with dense, hard dielectric optical coatings for high laser damage threshold, low temperature sensitivity, and permanent performance, even in harsh, humid environments.

About Semrock: Semrock manufactures, in high volume, optical filters that set the standard in performance and reliability for the biotech and analytical instrumentation markets. Semrock's patented and patent-pending products include the highly acclaimed BrightLine series of fluorescence filters for research and clinical microscopy, high-throughput screening, real-time PCR, and other fluorescence-based instrumentation; exceptional filters for Raman spectroscopy, and unique biomedical laser system optics. Semrock's innovative products are made possible by combining modern ion-beam sputtering with Semrock's proprietary volume manufacturing technology. Founded in September 2000, Semrock is based in Rochester, New York, a well-known center of optics, and has sales offices throughout the United States. For additional information about Semrock, its products, and its team of international distributors, visit the company website at www.semrock.com.

BrightLine, RazorEdge, MaxLine and StopLine are registered trademarks of Semrock, Inc.

Contact: Kim Brosius Marketing Coordinator Semrock, Inc. kbrosius@semrock.com 585-594-7005