Laser Cutting System offers intelligent features.
Press Release Summary: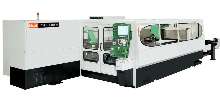 HyperGear 2D Laser Cutting System features automatic torch and nozzle changer, plus automatic setup of focus lens position, nozzle to material distance, and beam adjustments. Air-cooled linear motors and stainless sealed protection covers do not require chillers or bellows. Sensors alert operators in advance of needed maintenance. Available in 4,000 and 2,500 W versions, HyperGear can process from thinnest painted galvanized steel up to 1 in. mild steel.
---
Original Press Release:

Mazak Premieres New "Intelligent" HyperGear Laser at IMTS 2004


SCHAUMBURG, IL - IMTS 2004 will mark the world premiere of Mazak's HyperGear 2D laser cutting system. The HyperGear incorporates over 20-patented intelligent features designed to automatically provide the optimum setup, maintenance notification and fastest cutting speeds for every material type and thickness-all without operator intervention. As a result, HyperGear enables the use of less skilled operators compared to other laser cutting systems, and customers can experience improved cash flow by processing more parts per working day.

HyperGear's intelligent functions include:

o Automatic torch and nozzle changer plus automatic setup of focus lens position, nozzle to material distance and beam adjustments. These features enable the ideal setup for every cutting application and the lowest possible setup time with no operator intervention.

o A next generation Nanosecond PREview 640 PC Control and Hyperlinear Drives. These two newly developed patented features from Mazak allow the HyperGear to cut at unmatched speeds yet with the precision to maintain perfect corners, tight dimensional accuracy and roundness on contours. The unique air-cooled linear motors and stainless, sealed protection covers don't require costly chillers or bellows.

o Intelligent maintenance notification system. Sensors, such as those in the internal and external beam delivery systems, alert operators in advance of needed maintenance. The HyperGear also features intelligent nozzle inspection and cleaning.

oQuick-change piercing gun. Combined with Mazak software that automatically determines the optimum sheet pierce sequence, the piercing torch provides fast, stable piercing of thick plate while reducing heat build-up.

The 4000w and 2500w HyperGear can process from the thinnest painted galvanized steel up to 1" mild steel and is available with a 5¢ x 10¢ bed. Automated material handling equipment designed for the efficient production processing of sheet metal and plate is also available. For more information, visit IMTS booth #6230 in the North Building, Hall B, or call Bob St. Aubin, National Sales Manager, Mazak Laser Corp., 847-252-4500 or FAX 847-252-4599.

More from Health, Medical, & Dental Supplies and Equipment