Plasma / Flame / Laser Cutters and Cutting Machinery
Laser Cutting System has 160 x 60 x 30 in. work volume.
Press Release Summary: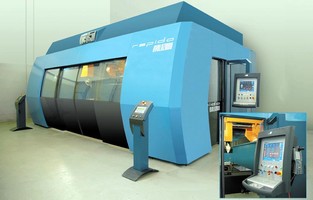 Featuring direct drive head and high-speed axes drives that offer 4 g acceleration, RAPIDO EVOLUZIONE 3D laser cutting system integrates with various robotic solutions. Features include breakaway head that can be restored in event of crash, focal position control functionality for uniform cutting quality, Safe Impact Protection System that protects head, nozzle, or sensor from damage between head and work piece, and intuitive CNC control.
---
Original Press Release:

New Prima 3D Laser Cutting System Offers Substantial Cycle Time Reduction & Operational Versatility



New system features dynamic, direct-drive head, large work capacity and operator-friendly ergonomics and accessibility.

CHICOPEE, MA USA (June 21, 2007) - PRIMA North America, Inc., a leading manufacturer of innovative laser cutting systems, has introduced RAPIDO EVOLUZIONE, a 3-D laser cutting system offering features that increase productivity by more than 30% over conventional systems.

The RAPIDO EVOLUZIONE technological advancements include new high-speed axes drives and a head that provides higher speeds, to reduce cycle times on average by over 30% compared to similar systems on the market. The axes drives offer a record-breaking acceleration of 4 g for a 3-D laser cutting system. The direct drive head prevents backlash, and requires no gears or complex kinematics. This new and highly compact cutting head design also allows for extremely accurate cutting of intricate 3-D parts.

RAPIDO EVOLUZIONE features a large work volume of 160" x 60" x 30" (4080 x 1530 x 765 mm), while offering a compact architecture. An innovative cabin design offers improved ergonomics and accessibility to the work piece and programming, making RAPIDO EVOLUZIONE extremely efficient and safe. The cabin fully encloses the machine and work area, including its ceiling, for increased safety and optimal fume and dust evacuation. The work piece is fully accessible, allowing the operator to move comfortably around parts for loading, unloading and programming. The highly accessible structure supports RAPIDO EVOLUZIONE's easy integration with a variety of robotic solutions.

"The introduction of RAPIDO EVOLUZIONE provides our customers with a system that offers the versatility they have come to expect in our 3-D systems, with the addition of several key capabilities that will significantly increase the performance, efficiency and user-friendliness available for their laser cutting operations," comments Mr. Thomas Burdel, Vice President of Sales and Marketing at PRIMA Laser.

RAPIDO EVOLUZIONE offers many advanced features that make it a state-of-the art system including the Focal Position Control (FPC) functionality that delivers high and uniform cutting quality, and eliminates production set-up changes when alternating material types and thicknesses.

In addition, other features include a breakaway head that can be immediately restored in the event of a crash, a patented Safe Impact Protection System (SIPS) that protects the head, nozzle or sensor from damage between the head and work piece, and a Laser Piercing Monitor (LPM). By analyzing the reflected light, the LPM feature automatically works out the best parameters to be used for fast and reliable piercing, allowing cutting to start as soon as the material has been pierced.

For maximum performance, RAPIDO EVOLUZIONE is equipped with a powerful, new and intuitive PRIMA CNC control.

PRIMA North America, Inc. is the North American subsidiary of PRIMA INDUSTRIE S.p.A. based near Torino, Italy. With approximately 120 employees, PRIMA North America, Inc. is the largest subsidiary within the PRIMA Group and is dedicated to serving the US, Canada and Mexico market needs for laser sheet metal cutting machinery, and worldwide needs for laser drilling systems and industrial lasers. PRIMA has been an innovator of state-of-the-art 2-D and 3-D systems for laser sheet metal fabrication and drilling of parts used in a broad range of industries worldwide since 1977. Lasers, machines, software and material handling systems are all designed, developed, made and serviced by PRIMA with the latest technology, providing users a single-source solution for quality laser sheet metal cutting.

For more information about RAPIDO EVOLUZIONE and PRIMA North America, Inc., call 413-598-5200, fax: 413-598-5201, or visit www.prima-na.com. PRIMA North America's address is 711 East Main Street, Chicopee, MA USA 01020.

Technical contactMr. Thomas BurdelPRIMA North America, Inc.413-598-5200tburdel@prima-na.com

Related