Laser Coder features IP65 rating for harsh environments.
Press Release Summary: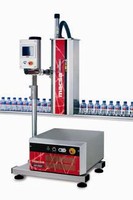 Series KIP-1000 CO2 Laser Coding Systems come equipped with airtight enclosed laser components and touchscreen controller to protect components from dust and water. Available in 10, 30, and 60 W models, lasers can be controlled via handheld terminal, remote touch screen or remote PC. Series is effective on multiple substrates including labels, cardboard, PET, glass, and wood.
---
Original Press Release:

ID Technology Introduces IP65 Rated Laser Coders for Harsh Environments



ID Technology, a division of Pro Mach, today announced the availability of its Series KIP-1000 CO2 Laser Coding Systems with IP65 rating for harsh environments. The Laser components and touchscreen controller are enclosed in an airtight casing protecting the Laser from both dust and water. The IP65 rating is a significant step for Laser Coding technology, and means customers can now deploy IDT Laser Coding Systems in harsh production environments where dust and frequent wash downs are the norm.
Now Laser Coders can be deployed in almost any production environment, allowing manufacturers, including those in the beverage industry, to benefit from the superior imprint quality, low maintenance and minimal operating costs inherent in Laser Coding Systems. The Series KIP-1000, available in 10,30 and 60-watt models, features the same compact design and adjustable marking head, available in all IDT Laser Coders, making them perfect for installations in complicated production lines and environments.
These user-friendly Lasers can be controlled via handheld terminal, remote touch screen or from a remote PC. And best of all, with MACSA's exclusive software multiple Laser Systems can be linked for even greater control and increased production. No matter your production environment, or marking substrate - labels, cardboard, PET, glass, or wood - the Series KIP-1000 delivers clear, accurate marking you can count on. For more information on ID Technology's expanding line of Laser Coding products, peripherals and service call 888.438.3242 ext. 159.

About ID Technology

ID Technology, a division of Pro Mach, is a manufacturer and integrator of labeling, coding and marking systems, as well as, peripheral equipment, supplies and service. Through three business units and related divisions, Pro Mach provides equipment, training, installation, and parts in primary packaging, end-of-line packaging, and identification and tracking. For more information or to locate one of the ID Technology nationwide sales and service centers, call 888.438.3242 or visit our website at www.idtechnology.com.

About Pro Mach

Pro Mach is a leading provider of integrated packaging products and solutions for food, beverage, household goods, pharmaceutical, and other diverse consumer and industrial companies. Through three business units and related divisions, Pro Mach provides equipment, training, installation, and parts in primary packaging, end-of-line packaging, and identification and tracking. Our industry leading divisions and brands include Axon, Fowler Products, Ossid, and Roberts PolyPro in Primary Packaging; Brenton Engineering, Orion Packaging, Rennco, and Wexxar Packaging in End-of-Line Packaging; and ID Technology in Identification and Tracking.

Pro Mach has a diverse customer base, from Fortune 200 companies to smaller, privately-held businesses worldwide, which depend on reliable, flexible, technologically advanced packaging equipment and integrated solution sets. Pro Mach is headquartered in Cincinnati, Ohio with manufacturing facilities and offices throughout the United States and Canada.

For more information about Pro Mach visit our website at ProMachInc.com.
Media Contact: Brent Meyer 513.831.8778 ext. 314 bmeyer@ProMachInc.com


More from Labels Tags Signage & Equipment