Laser Alignment System targets manufacturing plants.
Press Release Summary: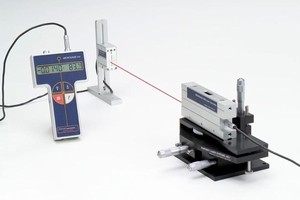 Microgage Laser Alignment System consists of compact laser transmitter that forms straight 150 ft reference line for checking machinery straightness, runout, and other parameters. Digital reader picks up laser beam and handheld display shows position of reader to within 0.0001 in. Rotating base swings laser in full circle, defining plane for checking flatness of equipment, while right-angle attachment redirects beam for checking squareness.
---
Original Press Release:

Easy to Use Laser Aligns Machinery and Equipment



May 2006, Newburyport Massachusetts: Pinpoint Laser Systems is introducing a new Microgage Laser Alignment System for use in manufacturing plants and production facilities. This newest product is easy to use, improves manufacturing efficiency, increases machine life and reduces downtime by ensuring that moving elements and components are well aligned to each other another. The Microgage has dozens of uses from aligning CNC machine tools, to checking printing press, aligning webs and rolls, monitoring plastic injection molding equipment, aligning shafts and drive assemblies, and much, much more. Now U.S. manufacturers can improve their production efficiency, address machine problems quickly, and improve their manufacturing profits.

This new Microgage consists of a small compact laser transmitter that forms a very straight reference line over 150 feet long. A small digital reader picks up the laser beam and a handheld display shows the position of the reader to within 0.0001 inch (3 microns). The Microgage laser can be positioned to form a straight reference line, as shown in the photograph, for checking machinery straightness, runout, and other parameters. A rotating laser base swings the laser in a full circle defining a precise plane for checking the flatness of equipment, rolls, web systems, and more. A right-angle attachment redirects the laser beam for checking squareness of machinery aligning actuators, and precision parallelism adjustments on rollers, guides, tracks, and rails. With different adapters, the Microgage can attach to any machine providing precise reliable information on the alignment condition and guidance on how to re-optimize the equipment.

The Microgage comes complete, ready to use, in a compact carrying case with complete instructions. Whether used on the production floor, field installations or on service sites the Microgage goes to where you need the work done. Initial customers include shipbuilders, machine shops, printing and laminating companies, plastic manufacturers, and manufacturing firms. The Microgage and all Pinpoint products are made right here in the United States and designed for years of aggressive and demanding use.

For press or story information on this product innovation, please contact Pinpoint Laser Systems at 800-757-5383 or visit our new website at www.pinlaser.com

Pinpoint: Improving manufacturing efficiency, one plant at a time.

More from Communication Systems & Equipment