Larson Electronics' Magnalight.com Offers Effective and Versatile Telescoping Light Booms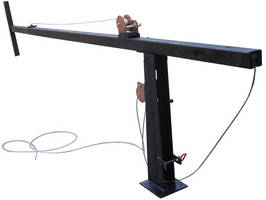 Increasing the range of its line of industrial grade equipment deployment systems, Larson Electronics has released for sale a telescoping light boom capable of elevating commercial light fixtures, cameras and similar gear to elevations of up to 30 feet in height. Designed to lift electrical equipment to 30 feet for maximum area coverage, Magnalight light towers give operators the ability to quickly and easily deploy equipment and secure it for extended operations. Constructed for durability and strength, these telescoping booms safely elevate 150 lbs of equipment to heights of 30 feet quickly and with minimum effort.

The Magnalight www.magnalight.com/p-48747-light-mast--light-boom--light-tower--30-foot-mast.aspx [LM-30 telescoping light boom __title__ LM-30 telescoping light boom] is built with safety and effectiveness as a top priority. Designed to allow operators to lift electrical equipment such as lights, cameras, speakers and similar fixtures to 30 feet in height, these units provide operators with the ability to gain maximum coverage of large areas.

Comprised of two sections, a 13 foot long upper and a 17 foot long lower section, these www.magnalight.com/c-169-explosion-proof-lights--standdolly.aspx [light towers __title__ light towers] are constructed from steel and have a 12 square, ½ inch thick steel base with four ¾ inch diameter holes for mounting the tower to towable trailers or any stable platform capable of accommodating the total weight of the boom with attached equipment. This www.magnalight.com/c-189-light-towers.aspx [telescoping tower __title__ telescoping tower] can be collapsed for transport and raised for deployment via two included 1,000 lbs manual winches. When extended to 17 feet, this tower can withstand winds up to 125 and is coated with a durable finish to resist damage from the elements. Magnalight also offers optional electric winches instead of the manual units as well as several various tower lengths. Magnalight is a manufacturer, and as such can custom tailor these units to the customers' needs with a wide variety of lighting, length and deployment options.

"The LM-20 and LM-25 light masts have been very popular in the oilfields in Canada and the United States," said Rob Bresnahan with Larson Electronics' magnalight.com. "However, there has been significant demand for taller models, including 30 and 40 foot versions of the light mast tower. The LM-30 is the first step towards fulfilling these needs. We are looking at ways to design these light masts to collapse to shorter form factors."

Larson Electronics' Magnalight.com carries an extensive line of light towers, work area lights, high power LEDs, light tripods and HID work lights. You can view Larson Electronics' entire Magnalight inventory of high grade lighting equipment at Magnalight.com. Magnalight can be reached directly by calling 1-800-369-6671 or 1-214-616-6180 for international inquiries.


More from Cleaning Products & Equipment