Lapmaster Wolters Becomes Precision Surfacing Solutions and Launches New Brand Identity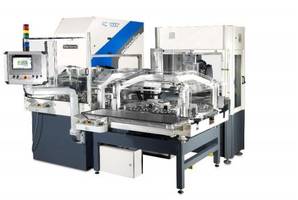 Rendsburg, Aschaffenburg, Chicago - September 19, 2017 - The Lapmaster Wolters Group is a leading supplier of high-precision equipment and services for lapping, polishing and grinding applications with subsidiaries all around the world. Lapmaster Wolters stands for ideas, commitment and passion for top technical achievements. The focus is always on the continuous development and optimization of surfaces. With production sites in the USA, Great Britain, Germany, China and India, Lapmaster Wolters is always close to the market and its customers. To meet customer requirements even better, Lapmaster Wolters expanded its product portfolio at the beginning of 2017.
With the acquisition of Elb-Schliff Werkzeugmaschinen and aba Grinding Technologies at the beginning of 2017, the product portfolio has been expanded by the applications of precision-, surface and profile grinding. Elb-Schliff and aba Grinding are well established and recognized brands such as all other brands of the successful Lapmaster Wolters Group which develop machines for grinding solutions in almost all key industries. The application areas of the systems are nearly unlimited, in the metal processing industry, automotive-, aerospace-, electronic-, ceramic-, plastics- or glass industry. The Lapmaster Wolters group includes following brands: Lapmaster, Peter Wolters, Micron, Elb, aba and Barnes.
To promote each brand event better Lapmaster Wolters is becoming Precision Surfacing Solutions. The new branding reflects the transformation of the technology driven company to a diversified industrial group. The brand is introduced at EMO 2017 and will be rolled out globally in the months to come.
As a technology driven company with 20% of its employees being engineers Precision Surfacing Solutions offers complete turnkey solutions through a wide variety of customized machines. Precision Surfacing Solutions can be more flexible to meet customer's demand by having faster know-how exchange within the group brands and offer more opportunities through a wider product portfolio.
At the EMO following new machines and developments are showed at our booth (hall 11, C46).
Double-Sided Fine Grinding Machine Peter Wolters AC microLine® 1000-F As special highlight of the brand Peter Wolters, we are pleased to present at our booth the well-known fine grinding machine Peter Wolters AC microLine®1000-F with a new Twin Loader and robot cell. On top of a lot of smaller adjustments, some key improvement are the solid welded construction, a center-fed height adjustment driven by a servo motor, and a linear electrical unit to load- and unload the carriers.
Machines for special Tasks
The well-established profile grinding machine Micron MACRO with an application specifically for rotor grinding, the Lapmaster double disk grinding machine DDG 580, a Lapmaster 36' Single Side polishing machine with matching consumables, and also a Lapmaster LBVS 250 will be exhibited at the 300 square meter booth in hall 11.
High precision profile grinding machine for precise machining
As fully integrated brands of the Lapmaster Wolters Group, Elb-Schliff Werkzeugmaschinen GmbH and aba Grinding Technologies GmbH present the surface and profile grinding machine Elb smartLine N6 XC-Pro and Elb smartLine BD 10 KGT840. These machines represent the successful modular kit of the entire smartLine product range.
New development in broach grinding
The Broach Grind Machine BG1000H-T handles the grinding of flat and round broaches. These machines are high precision profile grinding machines for the tool and mold industry. Work pieces with peak values of 2,000 mm length and 200 mm diameter don't challenge the BG machine range. Fast retooling from flat to round-tooling and a variety of grinding application for rotation-symmetric components are just a few advantages of this product line. With an (optional) measuring probe the tooth thickness, and pitch for the profile grinding and the tooth pitch for the back taper can be measured.
Contact This Company Download Spec Sheet
More from Machinery & Machining Tools