LAPEROS Liquid Crystal Polymers Use an Optimum Combination of Filler and Formulation Technology
Press Release Summary: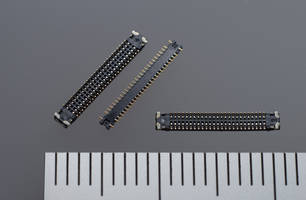 LAPEROS® E420P Liquid Crystal Polymers exhibit improved mechanical properties, chemical resistance, and low warpage for films and connectors in cabling, antennas and circuit boards. These units feature a dielectric constant of less than 0.3 measured in the frequency band of 1-20 GHz. LAPEROS® E420P are suitable for Surface Mount Technology (SMT) processes, telecommunications and automobiles applications.
---
Original Press Release:
Polyplastics Introduces New Series of Low-Dielectric LAPEROSⓇ LCP for Next-Generation Communication Devices
Polyplastics, a leading global supplier of engineering thermoplastics, has announced the launch of a new series of low-dielectric liquid crystal polymers (LCP) for next-generation communication devices. LAPEROSⓇ E420P is the first in a series of low-dielectric grades which also possesses inherent high heat resistance, mechanical properties, chemical resistance, high flow, and low warpage for films and connectors in cabling, antennas, and circuit boards.
Polyplastics developed the new LCP series amidst the increasing demand for low dielectric and low dielectric tangent materials to satisfy the needs of 5G telecommunications and V2X telecommunications for autonomous automobiles and materials applicable for high-speed and high-frequency transmission components.
LAPEROSⓇ E420P makes use of an optimum combination of filler and formulation technology to achieve a low dielectric constant of less than 3.0 measured perpendicular to the flow direction for the 1-20 GHz frequency band. Further, the dielectric loss tangent is stable over the entire frequency band. The material also fulfills downsizing requirements and increasingly complex designs in connector applications and can be used in Surface Mount Technology (SMT) processes.
Polyplastics will expand its series of Low-Dielectric LCPs to meet broader performance requirements for connectors. The company plans to extend its product portfolio to include grades with enhanced low warpage, higher heat resistance, and greater flow for compact, fine-pitched connectors. Since connectors are the primary target application, these grades are formulated with good flowability. Polyplastics reports that in tests using the company's connector molds, the new grades are molded at lower packing pressure than conventional grades.
For more information, visit
https://www.polyplastics.com/en/product/lines/lcp_e420p/index.vm
About Polyplastics
Polyplastics Co., Ltd. is a global leader in the development and production of engineering thermoplastic solutions. The company's broad product portfolio includes polyoxymethylene (POM), polybutylene terephthalate (PBT), polyphenylene sulfide (PPS), and LCP. The company has the largest global market share of POM and LCP. With more than 50 years of experience, the company is backed by a strong global network of R&D, production, and sales resources capable of creating advanced solutions for an ever-changing global marketplace.
More from Electrical Equipment & Systems