LANDTEC BIOGAS 3000 Gas Analyzer comes with user calibration operating system.
Press Release Summary: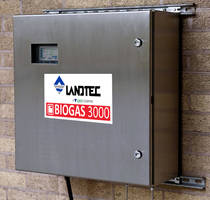 Suitable for anaerobic digestion, biogas monitoring, and landfill gas monitoring applications, LANDTEC BIOGAS 3000 Gas Analyzer incorporates external H2S sensors ranging from 50 to 10,000 ppm. Housed in IP65 rated enclosure, unit features configurable 4-20mA outputs and Modbus RTU communication protocol. Equipped with dedicated alarm and an automatic drain option, unit comes with process field bus, Process Field Net and Ethernet communication protocols.
---
Original Press Release:
QED Environmental Systems Announces LANDTEC BIOGAS 3000 Fixed Gas Analyzer
Offering optimal continuous monitoring of gas production process
QED Environmental Systems announces the new LANDTEC BIOGAS 3000, a next generation fixed gas analyzer, which offers optimal continuous monitoring of the complete gas production process. Building on field-proven gas analysis technology, the compact self-contained BIOGAS 3000 system offers cost-effective online monitoring that is ideal for anaerobic digestion, biogas monitoring, and landfill gas monitoring applications.
The new BIOGAS 3000 can use up to four sample ports to monitor methane (CH4), carbon dioxide (CO2), and oxygen (O2), with optional monitoring of hydrogen sulfide (H2S), hydrogen (H2) and carbon monoxide (CO) levels – operators can choose up to five gases to monitor. The device features easy self-installation and maintenance. In addition, QED provides a temporary replacement unit, resulting in zero operational downtime for servicing. The BIOGAS 3000 offers simple user calibration and an easy-to-operate system. It is calibrated to ISO/IEC 17025 standards for optimum accuracy.
The BIOGAS 3000 is available with a continuous monitoring option for CH4, CO2 and O2. By incorporating external H2S sensors in ranges from 50 to 10,000 parts per million (ppm), it can be used to monitor before and after desulphurization. Also available are pre-calibrated sensors, which prevent system downtime. New this year is a built-in liquid level monitoring feature equipped with a dedicated alarm and moisture removal drain, or an automatic drain option that empties the catchpot without manual intervention, offering flexibility for on-site maintenance.
Built with an IP65-rated enclosure, the BIOGAS 3000 is certified for use in potentially explosive atmospheres (ATEX) and IECEx (IEC System for Certification to Standards Relating to Equipment for Use in Explosive Atmospheres) Zone 2 areas. A variety of options are available for communication with a SCADA system, including six configurable 4-20mA outputs with a Modbus RTU communication protocol. Process Field Bus (PROFIBUS) and Process Field Net (PROFINET) and Ethernet communication protocols are also offered.
About QED Environmental Services
QED Environmental Systems, a subsidiary of Graco, Inc., is the leading manufacturer of innovative environmental pumping systems, landfill products, and air strippers for use at landfills, mines, oil refineries and other industrial sites, as well as hazardous waste cleanup sites. Our products are used around the world for a wide range of environmental applications, including groundwater sampling, groundwater remediation pumping, landfill leachate and condensate pumping, air stripping and VOC removal, and wireless data acquisition. Based in Ann Arbor, MI, QED serves customers from support centers in Michigan and California. For more information, call 734-995-2547 or contact us at info@qedenv.com.